September, 2009. A great month. Not only did my endodontist fix my teeth, thus enabling me to actually start losing the 100+ lbs I accumulated over 11 years of illness and infection, but my friend Chris convinced me to participate in NaNoWriMo for the first time. National Novel Writing Month is an annual event that takes place in November. For thirty days, writers all over the world attempt to write a 50,000-word novel (or, at least, 50k words towards a novel or other project). The goal is not to write something GOOD, but just to get the words down. The internal editor is set aside, and creativity explodes.
I had never written more than about 15,000 words in a month before then, and the idea of putting aside the internal editor and letting my inner writer just pour out whatever popped into my head at the time was a bit scary. I let myself be talked into it, though, and threw myself into the idea with gusto. I purchased my first NaNoWriMo shirt, and even though I was extremely self-conscious about my 255 lbs, I took this picture: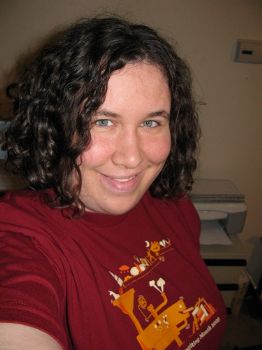 The shirt was a unisex American Apparel shirt sized 3XL. It was the largest shirt I owned, the one with the most X's on it. This is the only picture I have in the shirt now, and I've kept this shirt - as well as my largest pair of pants - to wear and take pictures with when I reach my goal size.
Turns out, I LOVED NaNoWriMo. My local writing circle was fantastic and I met all sorts of writers. We got together several times a week to write, and sometimes met socially as well. I remember November 2009 as one of the best months I've ever had in my life, and I knew I would participate again in 2010.
Sadly, I have no picture of my 2010 NaNo shirt. It was sized 2XL, one size down, as I'd lost about 15-20 lbs at that point. By then, though, shame and depression were so heavy on me that there was no way I was going to take a photo wearing it. :(
By 2011, however, I was well into my weight loss journey, and much happier with my progress! I definitely took a picture, and the contrast is clear: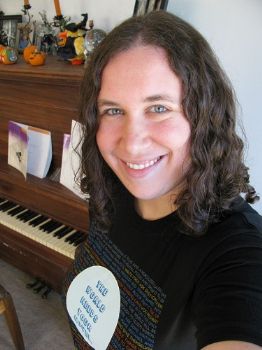 I weighed 193 lbs - firmly in ONEderland, over 60 lbs lost altogether from my highest weight - and this shirt was an American Apparel unisex size large. Quite a bit smaller (both me and the shirt) than before!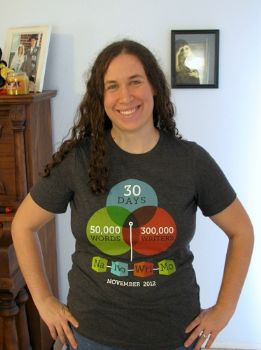 In 2012, I'd lost a further 28 lbs, taking me to 165 lbs. I was no longer obese, and only 11 lbs from a healthy BMI. The NaNo store changed up the design brand this year, and my shirt was a Bella Missy lady's size large.
And now, 2013, my fifth year participating in NaNoWriMo. They're still going with the Bella Missy brand, and I'm wearing a lady's size medium this year! I'm only down 13 lbs since last year, but I'm happy to be at a healthy BMI and to have maintained my 100+ lb loss for the last seven months. NaNoWriMo is only six weeks away, and I'm SO EXCITED. Getting the shirt every year makes me even more excited, I admit. :D
And it's been wonderful to see how they've shrunk from year to year: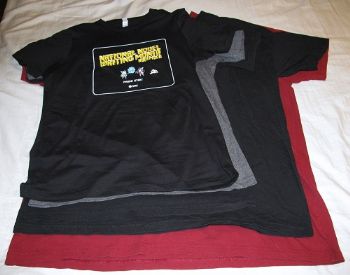 (Though difficult to see the difference between the 2010 and 2011 shirts, given that they're both black...)
And the four-year perspective, 2009's unisex 3XL to 2013's lady's medium: