Lately, I've been receiving lots of compliments on my weight loss journey so far. It's not just compliments about my appearance. It's also compliments about my healthy eating schedule, compliments from my trainer about proper form, and sometimes compliments on my more positive attitude and glowing happiness.
Compliments have always been a hard pill to swallow. I've always had such a low view of myself, so in the past when compliments were given I would make excuses such as "But I've got such a long way to go" or I'd say things with even more negative connotation... usually attacking myself in some form or fashion with my words and my thoughts. It wasn't up until a couple of weeks ago that I have made a conscious effort to think before I speak. When people compliment me now, I feel those negative feelings start to bubble and boil, but I take a deep breath, smile, think of how far I have come and say "Thank you!".
It's because I've always felt unworthy of a compliment. I've never thought of myself in good comparison to all the beautiful women I have known in my life because of my weight. When I married my husband I, of course, had bridal portraits made. This portrait is an accurate representation of me at my heighest weight. We shall call this picture (and all the other pictures I'm not posting) the photo that made me cry the hardest. I was close to 240 here.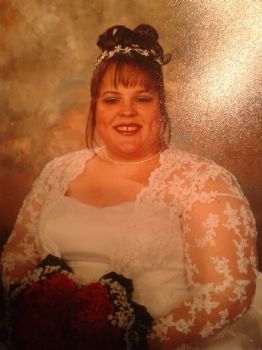 I remember feeling pretty when the photographer was taking my picture. I loved the dress I had picked out. I was so happy. I was finally going to marry the man I was meant to be with. When the pictures came back, I was so excited. I ripped open the envelope and poured them all out on the kitchen table... then I cried.. because I did not recognize the woman in the pictures. She was so huge and unattractive to me. I was angry. I was sickened. I was crushed. How could Howie love that? I didn't love that. How could anyone else love that??
It actually took me a few years to really catch the spark on here. I've been on this site off and on since 2007. It wasn't until last year after having my 2nd child that I finally started to "get it". I started to WANT to be healthier. I started FIGHTING to be healthier. After almost 2 years of working out and eating better and making healthier decisions and using spark people, I have finally got it down to what I need to do to succeed. Of course I am human. I screw up from time to time, but in the last 6 months I have been steady. If I fall down, I pick myself back up. If I make a bad decision, I don't let it snowball and ruin the entire day. If I take a day off from the gym to rest in the middle of the week, I bust booty harder on Saturday to make up for it. We all have decisions to make in life. We have to decide to love ourselves. We have to decide to not eat that second brownie. We have to decide to push through a hard work out. We have to decide to not give up, and we have to learn to say "thank you" at every point of our journey no matter if we're just starting or if we've been in it for awhile.
If you're like me and have felt unworthy of love, affection, and compliments because of weight, start re-routing your mind right now. You ARE beautiful. You ARE worthy. You were created with a purpose. Just suck it up... and say "thank you".