I haven't done a DietGirl blog since August 21st so I figured it was time for another one. Shauna Reid's book is such a lifeline for me. I need to look at it more, if you ask me.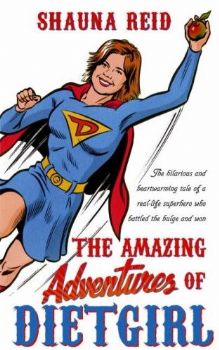 When we last left off Shauna was mortified at a Weight Watcher's meeting because the scale needed extra weights in order to measure her weight. Please see all the other Diet Girl blogs #1 to #4 on my blog summary page if you are confused about any of this. Oh, and I am not Diet Girl. This is a book study, so I do my best to put credit where credit is due. This Shauna Reid's book. I just take a quote and then reflect on it.
www.sparkpeople.com/mypa
ge_public_journal_summary.
asp?id=MPETERSON2311
Anywho, Shauna writes didn't find out how much she weighed on that page (and I am blogging about one quote per page), but on today's page we find out the number written on the card and the passed to her on the way out was- 355lbs. A number not unlike my own when I started in November 2012 at 363lbs.
The quote I picked from this page is Shauna's reaction, but more importantly what the Weight Watchers support team does for Shauna.
"They were all looking at me with encouraging, sympathetic smiles. Why were they being so kind? I didn't deserve kindness. Anyone who needed the Special Scale didn't deserve kindness. I was so huge she didn't even want to tell me how much I weighed!....Donna came over and hugged me. The warmth of her gesture unraveled me, and I finally felt the enormity of what I had done to my body.
'You're going to be okay,' she said as I bawled uncontrollably, 'You're not alone.' I couldn't speak except to mumble 'sorry' over and over." pg. 6

There were a couple things I looked carefully at when I was selecting this quote. The first thing is Shauna says she "...doesn't deserve kindness." That makes me SO SAD! I just want to reach through the pages of the book and give her a big ol' hug just like the Weight Watchers lady, Donna did.
The saddest part is that I have, more than once, thought the same thing.

I don't know what it is about our society, or how we are raised, or even in what we are genetically given (hormones in my case), etc. but there is just something about being overweight that constantly makes you think you are WRONG. And what do you do when you are wrong? Apologize.

Even when being comforted Shauna said she was sorry over and over again. I can't help but think was she apologizing for her meltdown? for being how big she was? or even just to herself?

I never apologized to myself for my weight (I've always been overweight actually). To me, I can't even imagine being at a normal weight, though of course, I'd like to get there some day.

But, lately I have apologized more, whether its necessary or not, when my husband and I started having trouble having our second child. Sometimes we all just feel like our bodies are such a debilitating let down! Thank goodness we have programs and books, and television shows, etc. that remind us that we should love ourselves at any weight.

Although, I just can't help but feel that being overweight (along with being told you are WRONG) is so incredibly linked with depression. It's very scary and heart-breaking. No one should feel like they live in a Halloween costume they can't take off, at any size!

The good news is that in this quote Shauna is told she is "not alone." So, once we find ourselves crippled with the sadness of being overweight, THANK GOD, we have people who can tell us that we are not alone in this battle.
For me, it was reading The Spark and having a person who has never battled with weight, Chris Downie, still write how he felt because he had struggled with things too.
Wait, so you DON'T think I am lazy? or have no self control? or ugly? or worthless? He went through the same things?! No WAY! Life doesn't magically get better at a lower weight?

After that brilliant epiphany came the community aspect of Sparkpeople. I don't know what I would do without it. Even having just one Sparkfriend who can message you, give you a goodie, or drop by and see how you are is worth the time spent on Sparkpeople whether you are losing weight or not. The weight loss is always in the background, but the community has so much more!

When people are inactive, I just wish I could pull them back in and remind that they are not alone too!
We can do this and we can do this together. When you think your family members who are overweight will not back you up because they think nothing is wrong, or your best friend who is half your size doesn't get it, or even all the intimidating skinny people who simply learned how to do this "living healthy" thing sooner than you did- you are not alone!

Shauna needed a physical Weight Watchers meeting and even though I never really see myself doing something like that, that doesn't mean that I can't find support online whenever and wherever I need it the most.