Thursday, September 19, 2013
I have to laugh at myself. I've joined BLC23 (that would be Biggest Loser Challenge 23) at the invite of a very supportive sparkfriend. Now you've got to realize that I didn't know what BLC stood for at the time and I will confess although i've heard about it - I myself have never, ever watched one of the shows. What astounds me in a similar way to the summer 5% challenge group is how organized the session is - 12 weeks of challenge, with at least a month of advance prepping of new people - it's really pretty amazing, an aspect of sparkpeople which I never knew was there or didn't search out. Now that being said, I don't "feel" like I know what to do - I am talking the emotional thing, not the brain thing. I have a wee bit of time to accomplish what needs to be accomplished, but it's a bit out of my control and I'm already grumbling to myself about arrange my menu for the first week of the challenge (I cook on the fly - or the day before) That's okay....5% challenge prepared me to be out of my comfort zone so I can do this. Isn't it amazing though how that "feeling" thing can outsmart, outtalk, outgun, outmaneuver the mental thing. It's really sneaky and devious because it shows up on our blindside, does us in before we even know it's affecting us and you look down and the container of ice cream is...gone. I finally chose a quote for today...don't know if it connects to what I'm experiencing today, but I think it catches this feeling vs. thought tension: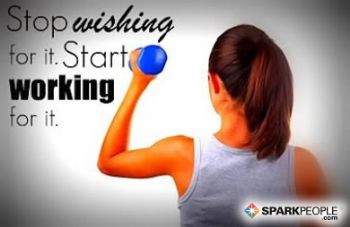 Wishing...wishful thinking almost always is wrapped up in what we feel, what our/my emotions are yacking about - doing is based on thoughts - at least if we/I want it to last, whatever it may be. If I enter this challenge based on an emotional response - I'm going to flop, plop, fizzle and I won't be alka seltzer or rice crispies - i'll be soggy cereal. So, I have known that I needed to reenergize and take care of myself - I did the trial of sparkcoach which somehow led me to an invite to the summer 5% which opened the door to consider BLC23. So, thanks all and I encourage you to make choices - conscious ones, not ones driven by sneaky emotional emotions - plop those things on the head and tell them to bug out.