Hello Sparkers,
Food planned and tracked - Done
SparkPeople: 9-Minute Seated Arm and Shoulder Workout - Done
SparkPeople 11-Minute Seated Cardio Workout Video - Done
Soup of the day: Leftover Curried Vegetable. Here's a link to the recipe.
recipes.sparkpeop
le.com/recipe-detail.asp?r
ecipe=2516243
----------------
I'm reading 'The Beck Diet Solution' with a group in my 55+ Female team. Here's a link to the thread.
www.sparkpeople.c
om/myspark/team_messageboa
rd_thread.asp?board=19834x
9682x54330081&
We're on day 36 of 42 and the topic today is "Believe It"
So this section speaks to me. Here's a brief excerpt.
"Now five weeks into the program, you might be at the point most dieters eventually reach - the point where you question whether or not you can keep losing weight. At some point, you might say to yourself, 'This is just a fluke I'm no different from how I was the last time I tried to diet'. "
I'm getting lots of positive feedback from people about how well I am doing and I agree that I am.
At the moment.
Every time someone tells me I'm doing good my mind jumps to that spot - "Yea, I'm doing well right now".
My confidence in my ability to keep on this course is not firm. I've lost a great deal of weight before. Was absolutely sure I would never again lose control and gain it back. Then I gained it back. I would say I'm very hopeful but not very confident.
To counter this lack of confidence Dr. Beck advises that you make an advantage response card that lists the behavioral changes you've made. In her example, the list includes behaviors she's suggested in previous sections of the book.
Honestly, I had already consistently followed my food plan and lost weight for a couple of months before I picked up her book so it doesn't seem genuine to credit her or the book with my success. If I were to try and talk myself into believing it will be different this time, the one thing I might point to is Sparkpeople. The tracking tools and the support on SP have both been very helpful.
Is it really necessary that I stop doubting myself in order to succeed? I quit smoking about 11 years ago. It took many unsuccessful attempts before I was successful. But even now, I think I could pick it back up. When I smell cigarette smoke it doesn't irritate me. It makes me want one. I've often said that if I'm diagnosed with a terminal illness the first thing I'm going to do is buy a carton of cigarettes because I loved to smoke. I think food is going to be the same way for me and that's OK. I will always know I'm a food addict and that I can easily slip into dysfunctional thinking and behavior that could literally kill me if I'm not vigilant. I'm OK with the fact that I will never feel confident in my ability to maintain healthy eating behavior. I'd rather be over-cautious then over-confident.
--------------
Challenges.
I've been invited to be on the Biggest Loser Challenge round 23 Steely Sapphire Soldier's team. We're doing orientation week and the round actually starts September 25th. I think the format of the challenge really suits my personality. I like how they refresh it by starting a new round so that you can keep the energy high with people who really want to participate.
----------------
Speaking about challenges, on my 55+ team's challenge to 'Lose 10lbs by Christmas' we've been asked to blog about a food and it's benefits.
Barley:
The two biggest benefits of barley over other whole grains is its selenium and fiber content.
"What can high-selenium foods do for you?
Protect cells from free-radical damage
Enable your thyroid to produce thyroid hormone
Help lower your risk of joint inflammation"
Source:
www.whfoods.com/g
enpage.php?tname=nutrient&
dbid=95
"Wish you were more regular? Let barley give your intestinal health a boost. In addition to providing bulk and decreasing the transit time of fecal matter, thus decreasing the risk of colon cancer and hemorrhoids, barley's dietary fiber also provides food for the "friendly" bacteria in the large intestine. When these helpful bacteria ferment barley's insoluble fiber, they produce a short-chain fatty acid called butyric acid, which serves as the primary fuel for the cells of the large intestine and helps maintain a healthy colon. These helpful bacteria also create two other short-chain fatty acids, propionic and acetic acid, which are used as fuel by the cells of the liver and muscles."
Let's compare the fiber content of barley to some other foods.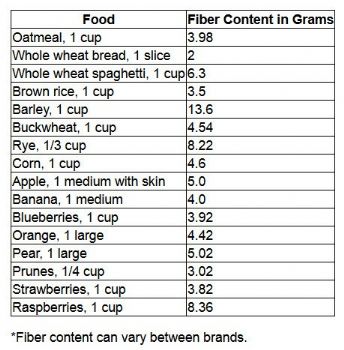 Source:
www.whfoods.com/g
enpage.php?tname=foodspice
&dbid=127
I eat both pearl barley and hulled barley. Hulled barley takes longer to cook, kind of like brown rice takes longer then white rice to cook.
Here's an easy barley recipe.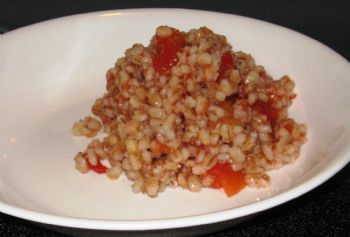 ------------
Barley and Salsa
120 grams hulled (hull-less) barley
6 cups water
1/2 cup La Victoria Salsa Suprema (medium)
Rinse barley and add to a medium pot with 6 cups of water. Bring to a boil, reduce heat and simmer 90 minutes. Drain. Mix with salsa. Allow to stand for 5 minutes. Serve.
Here's a link if you'd like to see the nutritional info.
recipes.sparkpeop
le.com/recipe-detail.asp?r
ecipe=2579324
--------------------
Well, I'll wrap this up for today and leave you with another flower taken by my sweetie. I'll be back tomorrow.
Letha