The video relates to later in the story. And it's a good story I think. Read on.
This morning coming to the race:
I started today early enough to get me to the Wyoming race site by 6:25 according to the GPS. And really that's all I had: GPS coordinates.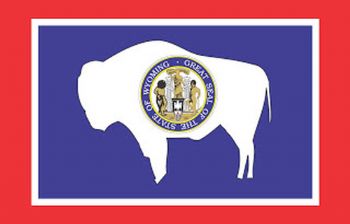 There is something special about predawn and dawn. The light creeping into the sky then over the horizon. And here on the high plains it really is beautiful.
I should have guessed that in spite of all the time on my hands and and the beauty I was enjoying, something had to go wrong. The GPS was showing curves here I was going straight and vice versa. And showing side roads that just weren't there.
I did expect to have to drive through a mining operation, so when the GPS took me to one it was no surprise. Except there was no sign that said "Marathon this way." But my TomTom and my iPhone both insisted that I should turn HERE RIGHT NOW!!!!!!! The sign was farther up the road, of course.
So I did.
I also expected dirt roads. But they all seemed to get me closer to the bentonite mine. After passing the same point three times and nearly being run over by vehicles with tires taller than me, it looked like I-95 with those things going every which way fast, one driver pulled over.
"ARE YOU LOST?" Shouting was the only way to communicate.
"NO, BUT I AM A BIT BEWILDERED." True enough. I could see US 212 and how to get there. I could always get home. So, not lost.
"WHAT ARE YOU LOOKING FOR?"
"THE MARATHON?"
"DON'T KNOW ABOUT ANY MARATHON, BUT I SAW A BUNCH OF LITTLE BITTY CARS LIKE YOURS." I am driving a Chrysler 200, a nice midsize, thank you very much. "GO BETWEEN THOSE TWO BUILDING, BEAR RIGHT ACROSS TWO SETS OF RAILROAD TRACKS THE JUST KEEP BEARING LEFT." Clear as mud. "GOT THAT?"
"I HOPE SO. THANKS."
And his instructions were spot on. I ran the race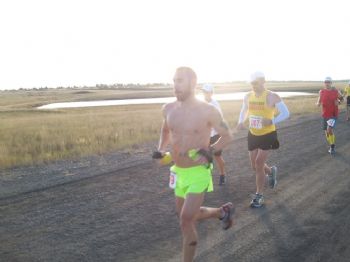 (that's not me, that's one of my people) and went back to Belle Fourche. After a shower, I went to Devils Tower.
On the way, I took the advice of a local and had lunch in Aladdin, Population 15. It was basic but tasty and reasonably priced.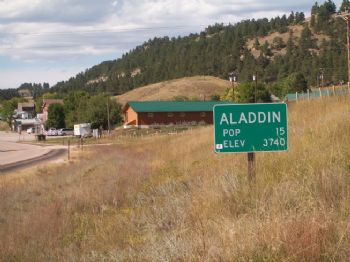 Driving up to Devils Tower, the sky got weird. It clouded up with what I call a pregnant sky.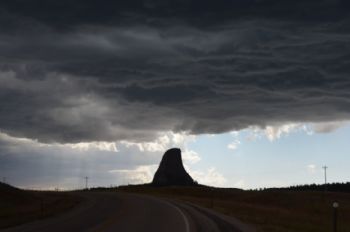 And if you give me a sky like that at Devils Tower, you better come up with a Mother Ship. Gosh even the lightning was Spielbergian. Then as I was turning onto Devils Tower National Monument Road, it looked like a curtain was being drawn across ti as the rain arrived. The drops were huge!
I thought "Hail."
And there was hail, from the video above.
Once it stopped, I went for a hike, yes, even after running a half marathon, Tim went for a three mile hike on a rough trail. Barely a path. And I got some good pictures. I have many, most you can find on Google images.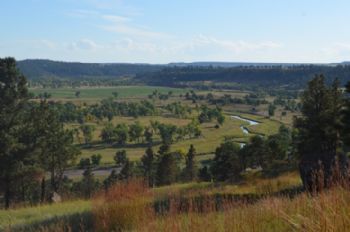 This is the Belle Fourche River.
And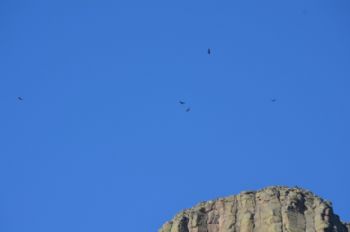 Just a hint of the Tower, but I hope you can see the bald eagles soaring.
And on the drive home a deer jumped practically over my hood. Ok, Ok, Ok, he was probably 25 feet away, but it seemed like over my hood. And in the field next to me was a herd of them.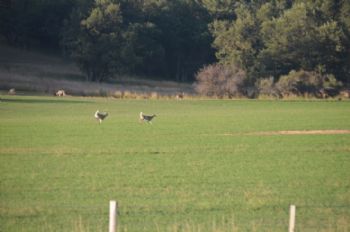 Maybe a hundred, but certainly several dozen.
I spent a very busy day out and about. And I had a good exhausting time.