I Hate Cancer!
Tuesday, September 17, 2013
I learned last night that my Aunt's Breast Cancer has returned after being in remission for 2 years. It has spread to her left lung, spine and lymph nodes along her collarbone. She said that the chemo MAY keep her alive longer. I am completely devastated right now. I did talk to her today and we shared memories and some laughs. I am going to get her some resources tonight. It is disheartening to know I am losing another loved one to this disease lost my grandmother in 2000. I have also lost many friends as well just in the last 2 years. I am also a survivor for 16 years now.
I was hoping to have more pictures from the relay by now but haven't received any as yet. This is the survivor cake that I got for the survivors it came out beautifully.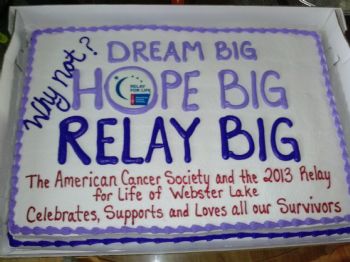 I had a good time at relay and was relieved that it went well. It was very hot I heard that if reached 99 degrees. I did have one of my neurological attacks and was grateful that it lasted only an hour. I exceeded my $1,000 goal! I raised $1,190.83!!! The final totals are not in yet for out Relay event so far my event chair says our event has raised over $200,000! I am thinking of joining the American Cancer Society's legislation network called AS Can. I'm in for the fight so that my future grandkids won't have to!