Tuesday, September 17, 2013
How nice it is to receive support from the spark community and to be motivator of the day, but it feels like being a fraud based on yesterday's insecurity yack. What really has me twinging was a comment on a recipe that I posted some time back, which I think is pretty good, but the comment said it was brothless chicken soup. So, my insecurity quotient went sky high - go figure. If I wanted, that could be a trigger to eat comfort food -- aaaack, not such a good choice, but then I saw in one of the sparkmails today a pinterest(which I don't do, but lots of folks say they love it) on 75 smiles - and I started smiling again and then I went searching for my motivational quote for the day - here's what I found: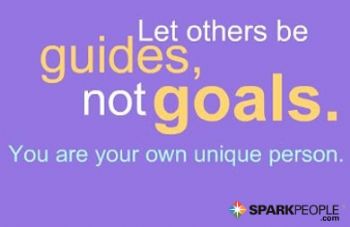 Guides not goals. In this day of internet connectivity and everyone having their opinion(including me), we(in our posts) have the choice to build up or tear down. On the receiving end, we can take the build up or tear down as guides or goals and I'm thinking that taking peoples' comments as guides is a healthy thing; perhaps when the comments become goals we are accepting someone else's path as our own because of my case - not being sure that my own path is such a good one. But, here's the thing, there is only one person who can walk my path - that would be me --- there is only one person who can walk your path - that would be you. I can walk beside you and perhaps hold you up when need be; likewise, you can walk beside me and support me when needed, but we can't walk each other's paths. I am so thankful for the positive and diverse support and perspective offered throughout the sparkpeople community. I'm not a perky cheerleader - but I thoroughly enjoy the energetic, invigorating posts of some team leaders; I do roll my eyes at a lot of posts regarding recipes (now if I could just do that for myself), but that mostly reflects our individuality and tastes for which I need to say hallelujah. I am amazed at the persistence and endurance of some sparkfriends who battle debilitating physical conditions and yet keep on going. Thank you for the honor of coming alongside you and pleasure of your willingness to come alongside me in this journey.