Why does this weight loss seem to be such a blasted struggle for me?
Is it because I don't feel I'm really worthy of a thin svelte frame, is it because I get my wheels spinning in too many directions and don't follow through on my eating plans? Could it be that I'm so stressed and distracted with this 'save our house' fight that it's all I can really muster up the oomph to keep after and my weight loss falls into second place?
Is it because I am not REALLY ready to commit to the healthy cooking that needs to accompany lower calories and restaurants call my name on the way home? Could it be that my hubs is too accepting and is more than willing to go to the restaurants and thinks the best way to cheer me up is with a Dairy Queen blizzard...and RIGHT he is about that one!

I don't know. I've been losing a little here and there with my 5% challenges but I'm VERY prone to piling the weight right back on between the breaks when an old challenge ends and a new one begins.
It's FRUSTRATING to say the least! We now have winter approaching when I will be at my all time busy at our consignment gallery. Winter time allows for a few cute sweaters here in FL on a few rare days and if I don't get another 30-40 pounds peeled off I'll look like Shamu.
This is NOT sitting well with me...not at ALL!

I don't like carting this extra weight around on my frame...it stifles my energy and weakens my self esteem. At this point in my life I should have this weight thing figured OUT!
I DO actually...I just don't have the self discipline to kick myself in the tush and make myself accountable!
Yep...I'm thinking if I can paste the 'after virtual me' on my forehead, the refrigerator, the bathroom mirror, the grocery cart...AND every great restaurant I love to haunt within a 10 mile radius...I might have a chance.
Oh boy...this is HARD...Lucy!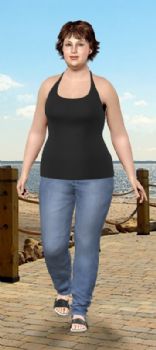 chubby cakes virtual me now~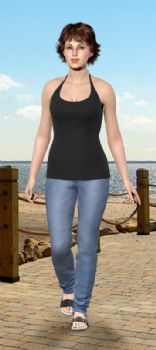 Slender cutsie pie virtual me at goal weight
I haven't considered wiring my mouth shut...but that MIGHT be an option!

I've been at this for four years now...up and down...up and down...DRAT I'm so aggravated with my own bad self!