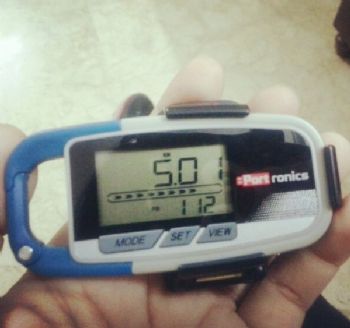 I have done many 5K's in the comfort of my home. But TODAY was different.
I just did not WANT to walk. I kept pushing it till it was really going to be time for kids to be home from school.
I managed to finish it in 70 minutes. THAT IS NEW. I generally take 55-62 minutes.
I felt very sad, but then I thought something?
I do REALIZE that I suck at 5K's. I felt intimidated, and that is the, very reason I kept pushing it.
I plan to do it DAILY. But four days a week is MUST.
Have you ever felt scared of 5K's? LOL
Veggies and more



I am not perfect. I lack a lot in veggie department.
I used to eat grapes a lot, and suddenly, they have been unavailable.
I need to start eating THAT apple with a tad of PB.
I also need to eat some veggies!
I would eat omelette with bread, but there is NO brown bread here, and I swear I miss bread.
Another, thing is that I love chicken

:)
I have to thank everyone here at SP, for constant help and positivity.

That is how I managed to lose my first half of the thirty pounds!