Again, I'm late in recapping of August.. time is just FLYING BY! I let go of 8 pounds and 7.5 inches during the month... the pounds came off this way:
upper arm -.5
upper bust -1
bust -.5
underbust -.5
waist -.5
hips -2
upper thigh -.5
mid thigh -1
calf -.5
neck -.5
If you're not doing more measurements that just bust, waist, hips - you're missing out on some interesting ways your body lets go of fat... and some motivation to keep going even when the scale is stalled.
You know.. they always tell you to take pictures when you start a weight loss journey.. and well.. at 326lbs I HATED pictures so really it's hard to find pics of me at that weight.. but I did find one. I paired it with a pic taken of me at one of my milestones I hit in August - 250lbs.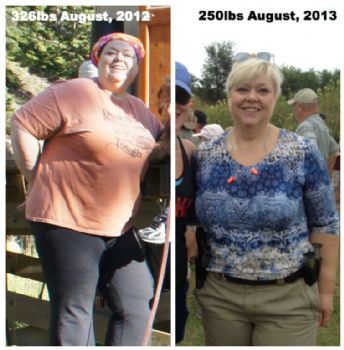 I started with my Coach on March 2nd.. he wanted me to take pictures THAT day.. I said NO and he didn't push toooo hard... but every week he'd ask if I was ready and tell me how I would regret not having a visual marker of where I started.. After TWO MONTHs I finally agreed to the dang pictures... the beginning pic was at about 290lbs (36lbs lost already)... then we retake pics at the end of the month.. I hate the process... really.. we do front, side and back... this month was the first time I haven't cried and I'm not exaggerating.. I could go through the list of all I hate about my body but instead I will tell you what I like.. I like that I my badonkadonk is looking much better (thankyou HEAVY back squats!)... I like that my legs are much more shapely.. and I like that I push through the fear every month to take these pictures...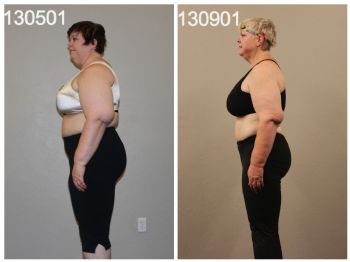 My achilles continued to be a limitation in August.. I did PT up until I left for Africa... lots of limping... no "loading" the Achilles like going down stairs, doing anything that causes me to go up on my toes, fast/dynamic movements are a no-no.. I went to the Ortho Doc when I returned from Africa and had an MRI done.. I have a partial tear of my achilles AND achilles tendonOSIS.. I meet with the cutter next week to talk about options..
The real thing that dominated August was my two week vacation to Africa and I've written extensively about it.. however, what I did not expect was that I would actually LOSE weight while on vacation.. not a lot.. but hey? I expected to gain weight because I chose to eat things I wouldn't normally and enjoyed every minute of it! hehe
Here are things I'm proud of in August
1. Down 8lbs even while taking a two week international vacation! AND I hit 245lbs BEFORE I went to Africa which was 10lbs under my original ZipLine goal!!!
2. Down 7.5 inches with the biggest loss in my hips
3. I was able to progress to below parallel backsquats!!
4. Hit my 80lb and 85lb lost milestones!
5. Proved that I can deviate from my routine and 1) not freak out and 2) get right back into my routine
6. I am trying to be able to complete 30 CrossFit sit-ups in one minute and I'm to 28
7. Another goal is to do 40 air squats (below parallel) in one minute and I'm up to 34
8. Progressing on upper body strength by moving from ring rows to assisted pull-ups with bands!
9. Completed 3 full Farmers carries with 200lbs.. very very difficult
10. Did my first Tabata with planks and was able to finish!
11. and MOST IMPORTANTLY??? I was able to completely enjoy my very physical vacation AND COMPLETE MY ZIPLINE ADVENTURE!!
Progress:
1. 20 push-ups in 1 minute (July - 15, August - 15) - Still working on it
2. 30 sit-ups in 1 minute (July- 25, August-28) - Still working on it
3. 40 squats in 1 minute (July-27, August-34) - Still working on it
4. Row a sub 2 minute 500 meters (PR 2:05) - Still working on it
5. 60 second plank - ACHIEVED in July...
6. Backsquat goal 1 RM 200lbs (July 165, August 165)
7. Front Squat goal 1RM 100lbs (July 45, August 45)
This month my goals are a bit different.. it's HEALTH MONTH for me.. so, I've scheduled my annual pap smear (sister died of ovarian cancer), colonoscopy (my brother was dx with colon cancer in his 30s and I am 10x more likely to also get colon cx), mammography (mother breast cancer survivor).. seeing the Orthopod and completing tests to finally get my achilles better and I'll also be getting bloodwork done. All of this makes me uncomfortable.. posting half nekkid pictures.. getting all this personal health tests done.. all of it.. but I am convinced that those who are really LIVING life.. and being successful at weight loss or anything else .. are able to do it because they're not scared to make themselves uncomfortable.. and this month my "uncomfortable" is coming from being poked and prodded.. and I've found a side effect is that I'm really missing my sister and my brother.. and i'd be lying if I said I wasn't in a bit of a funk.
108 days and 36lbs til ONEderland,
I got this!
Annie