Forgive me SparkPeople, for I have... eaten 2200 calories worth of food in one meal. I was obsessing over having fries or pizza. I couldn't even decide which one. All I knew is that when I thought about getting an apple, I had visions of grease dancing in my head instead. I found myself shoving things in my mouth that I didn't even want because I wasn't letting myself have pizza. It's like I thought... as long as I don't have pizza, all these other calories I'm consuming won't count.
Clearly, that was some flawed logic. So I gave in and got pizza... and fries. Yes, pizza and fries. How do I weigh 270 lbs? I think the better question is why don't I weigh 570 lbs? But anyway... I ate it, and it was good, and now I'm done with it. I'm ready to put the majority of this last week behind me and move on.
Two things went wrong for me this week. 1) I let myself feel too defeated by the scale and 2) Because I felt defeated, I sat around thinking about junk food instead of thinking about getting healthy. So, now that I can look back and see where things started going bad, I can learn from it and not make the same mistakes again.
The BIG BIG BIG mistake I need to stop making is caring so much about the scale. I know I shouldn't. All you wonderful Sparkers remind me that I shouldn't. In the logic part of my brain, I have a firm grasp on that knowledge. In the emotion part of my brain, I want to have a meltdown to rival a 3 year old. To this end, I am going to weigh myself Monday morning for my weekly weigh in... then I'm having Jeff hide the scale until Thursday morning. I want to weigh myself on Thursday morning just before my dr appt to see the difference in my scale and theirs. Then after that, hidden again until next Monday. If losing weight is going to be difficult, then focusing on it and getting so upset when it doesn't happen is counter-productive at best, and self defeating at worst. I just have to make myself understand... if I am eating less, and moving more... I am getting healthier. And that's the important part. I don't want to be 270 lbs, but I do want to live the longest life I can live, and that makes my health a lot more important than the number on the scale.
My goals for the week are simple:
1. Stay in my calorie range every day.
2. Eat more produce and less empty carbs.
3. Try eating more vegetarian meals.
4. Move more.
It sounds like excuse making, so let me clearly say... there is no excuse that justifies what I have done to my body these last couple days with all the food I have eaten. But if there is a silver lining, it is that it renews my motivation to get back on track. I see how much better I feel when I'm taking care of myself and eating well. I feel pretty crappy at the moment. I'm trying to find the bright side to all this.
And on to other events... we have a little guest in the bedroom. She's small, furry, and very sweet...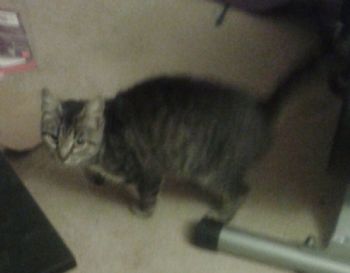 Dh walked over to the store next to us last night to get something, and when he came out, she walked out of the bushes by the store and walked up to him. He bent down to pet her, and felt her ribs. So he came home, woke me up, and told me I had to help him rescue a stray kitty. So off we went at 1:30 in the morning to catch a kitty. And we did. She was TERRIFIED when we were bringing her home. I felt horrible. But once we got in with her, we got her a can of food and some dry food and some water and let her out and she ate a big dinner, drank some water, and then walked back and forth between dh and I to get scratches on her head.
Can I say... I am in love with that cat.
Alas, we can't keep her, as much as I want to. We're not allowed to have anymore animals in the apartment. So I have done everything I can to try to find a good home for her. I have posted on FB, texted every person I know... so far, nothing. We're keeping her until Monday afternoon to see if someone will adopt her. If not, we will have to take her to the shelter. She is already litter trained, and very friendly, so she was obviously someone's cat at one point. She wasn't doing a very good job of fending for herself out there. So as much as it will break my heart to take her to a shelter... it's better than leaving her out there to starve to death. Or freeze to death when the weather turns soon. But I haven't given up hope that someone will want her. She's such a sweet girl, she would make a great pet.
Oh, and, I fell outside. Landed on my knee. Needless to say, that felt great. 270 lbs on one knee is not good. But I definitely didn't fall as hard as I could have, so I won't complain too much. My knee is just sore and scraped up. Nothing to be concerned about, though, other than wincing when my yoga pants rub up against it.
And that's pretty much all that has gone on around here today. I've spent most of the day worrying about the kitty, and in the bedroom playing with the kitty. But it's almost bedtime, and I'm ready to tackle tomorrow. Early morning walk with The Buddy, HERE I COME! Rawr!
Hope everyone is having a great weekend so far!