Once upon a time there was a teenager. Her Dad loved her so much, and so did her mom. Her Dad often said that she was the Pretty One, and her sister was the Smart One. One day, as the Pretty One went through puberty, her Dad said she'd better go easy on what she was eating, that she was getting fat. In the days to follow, her Dad policed her food.
This teenager didn't truly understand why she became a binge eater that day. She knew that she was so angry at her Dad and that there was NO WAY she was going to give him what he wanted. Every day she after school she would go to the corner store across the street and buy a bunch of candy. When her Dad went to sleep at 10 pm, she would eat them.
They tasted sweet, and vengeful, and the teenager was so pleased that she was not going to let her father tell her what she should eat, and how much! It was a glorious plan. Delectable. She also did other things on my journey for power, and to be loved.
The teenager grew older. Right out of high school she married a nice guy. She promised him that she would lose weight, even when she weighed 136 pounds. The teenager became a woman. The husband kept reminding her of her promise, to lose weight, as she gained ten, twenty, thirty more. The teenager inside of that woman did what she knew best. She continued to rebel against these men, who said they loved her, yet had such conditional love. Oh, and she told her sob story to everyone who would listen to her, both in real life and on the internet, and they cemented the vision that these men were horrible, shallow people, and how dare they!
That teenager turned 51. Her Dad is dead and can't comment about her weight anymore. Even her husband has shut up about it. Yet the woman still has those urges to rebel with food. The woman is still mad. The woman is still spiteful. She read 43,000 self help books, and all they did was make her feel that she was to blame.
One day, that middle aged woman (yes, I'm an optimist) with a "mean" Dad and a SUPER mean husband, made a big realization. She realized that she was only spiting herself with her food, since she had to walk around in her body 24 hours a day and seven days per week. That moment did two things. It broke her heart, and it brought a surge of resolve up.
She did some pivotal things. She took the online course Shrink Yourself, and that was very helpful. It showed her that she had so many excuses and pointed so many fingers!
www.shrinkyourself.com/?
v=60&bhcp=1
Then she read a book called Brain Over Binge by Kathryn Hansen and realized that she was NOT her cravings, and she could control them if she was willing to allow the binge thoughts to circle around her, not indulge them but also not ignore them or try to push them away. It is working.
She finally gets why she was bingeing. She just wants to be loved, ALL of her. Every ounce of her. Even her fat tummy, she wants that to be loved, too. She doesn't want to vilify the men in her life anymore. It doesn't help. Her bingeing doesn't give her power, it actually takes her power away, and she never knew that before.
My eating will never be perfect, and that is okay. So much of my journey is unwritten, but I am the author! YOU are the author of YOUR own wonderful life! Don't let anyone pull that pen away from you, my dear friends. I have spent most of my life rebelling against a ghost writer. No more.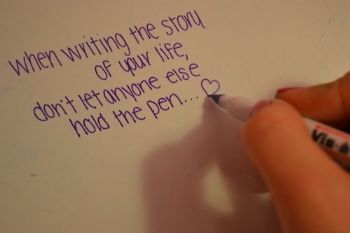 www.amazon.com/Brain-ove
r-Binge-C%0Aonventional-Re
covered/dp/0984481702/re%0
Af=sr_1_1?s=books&ie=UTF8&
qid=137918950%0A8&sr=1-1&k
eywords=brain+over+binge