Saturday, September 14, 2013
I tried a new Medifast meal today for lunch. I'm kind of weird with tomato-based soups because I love tomato basil but absolutely hate tomato soup. If this was going to be too watery then I would instantly hate it. But it turned out wonderful! I really like it and it's even better than the cream of broccoli soup.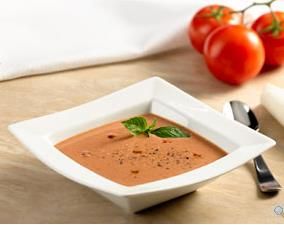 Tip: Use an actual bowl. I used a mug for the cream of broccoli and it was OK but this stuff foams up so my microwave was covered with soup.
I'm all 'meh' today. Kinda tired of people constantly bothering me. I got enough people being at a conference and the airport for 4 days. My in-laws keep coming over every single day. I need some alone time. Again, my hubby won't leave me alone. I'm getting quite overwhelmed by all the people. It's beginning to be too loud in my mind. Physically draining. I want to go outside, too. It's starting to become less hot as hell outside and I want to welcome the fall season. But I'm waiting for the stupid bed delivery which could be as late as 6 PM. And the stupid landscaping is being done today. They might not even finish. Before anyone thinks why I'm complaining... I didn't ask for this landscaping. My in-laws orchestrated and organized and scheduled this thing, seemingly to annoy me in the biggest way possible.

Sigh.
Luckily, I'm going shoe shopping with my mom tomorrow. I need some shoe therapy. And I need to ruffle through my closet and take out things that no longer fit and donate them. There are some very nice Ann Taylor dress pants that I got 2 months ago in a size 10. I wore them for a week.
101 days left!... it's almost under 100!