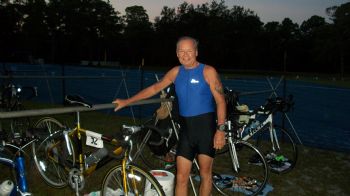 It was a mixed bag of effort and results. I finished my first triathlon today, and had a wonderful time. Met new people, swim, rode and ran as hard as I could.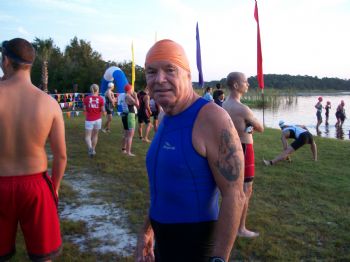 The swim portion went mostly uneventfully - I didn't expect to break any speed records, but I did well. I only actually trained for the swimming and bike for a month. Felt about as strong as I expected. The numbers breakdown are not in yet that tell my times in each event. I only have the final result so far. When they called us to the pre race meeting, I strolled over to the water, and listened to our instructions. Never thinking I needed my swim cap and earplugs just yet, but soon found out we were to start soon. So DW went and fetched them for me from the bike transition area.
There was a no swimming sing posted. WTH? This got some folks talking about alligators.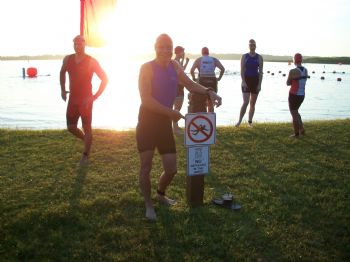 Here's me coming out of the water.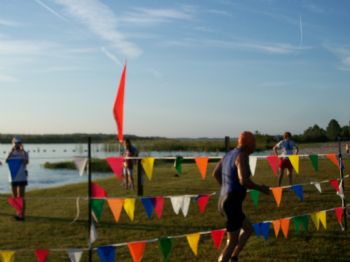 It was a long way to the bikes from the swim, probably a quarter mile.
Off I went, to get my bike. I got started fairly smoothly, don't know the transition time yet, though. No pictures of me actually on the 12 mile course, DW just got one of me leaving and one returning.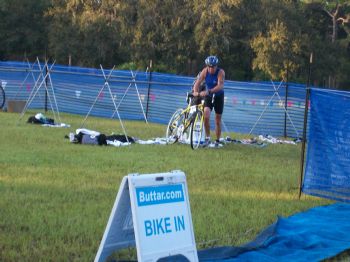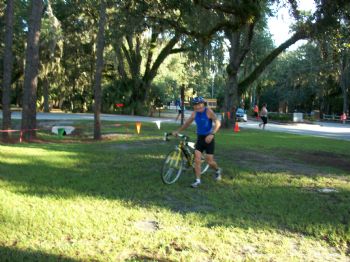 The bike ride was hard for me. I'm not really a bicyclist, more just casual riding on my old mountain bike, so I was worried about this portion. At one point, I took a wrong turn. I wasn't paying attention and the pack had thinned out, I got confused, thinking I'd seen someone turn left. I turned left and didn't see anyone, so I stopped and looked back and saw other rider going past the turn I'd made! Darn it, lost time. I quickly admonished myself to not fret, just get going and have fun. I only need to finish, stop worrying about times. I felt okay most of the ride, and even got a bit of energy around mile 10 - enough to have what I felt was a strong finish. I never passed anyone, but they surely passed me. That's fine, it's what I expected.
Got to the transition area okay, and since I was not wearing riding shoes, I just had to remove my helmet, put on my race belt with my number, take a quick GU and a sip of water and take off running. Take off. Hah. Not hardly. I got kind of shuffle off for a while, but I had to walk and stretch out my legs before I could actually run. And oh, darn, I have something in my shoe biting into my big toe. I stop and fiddle around with the shoe. My foot pad had come loose and a pebble was sticking to the adhesive that was there. I put the pad back in place and took off again. Soon my shoelace was flopping in the breeze. It was wet and would stay tied, once I undid it. This happened twice more, until I finally tied a knot in it and placed the loose ends in my shoe. Now I was okay. But, again, I thought about the time I lost.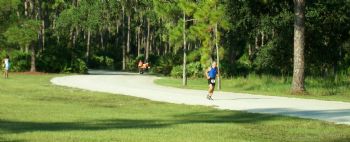 Turns out these little loses of time didn't hurt me much. I did just fine. Way better than my 'secretly wished for' time. I wanted to come in under 1:45:00 and I did. By quite a bit.
Coming down to the finish:

And right at the finish line: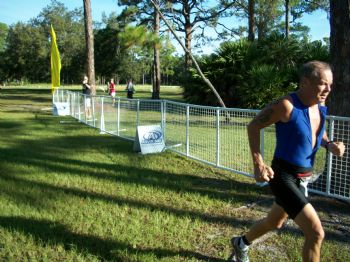 My final time was 1:31:53, good enough for a first place in my AG. I won't say how many people were in my AG but if you look at this picture you might be able to figure it out for yourself. They didn't give me an award for it, just announced my name and gave me the ribbon.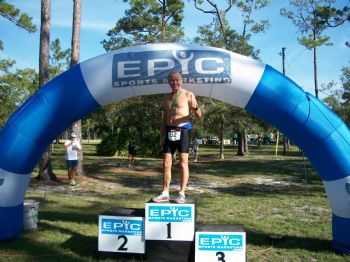 I was genuinely surprised that my time was so good. I've been running the numbers and never expected to do it that quickly. I can't wait to see the breakdown on each event. I just now went to their website, and the full results have not been posted yet.
But, hey, I finished!! Woo-Hooo!
Thanks for reading and have a great day.
Edit:
0:11:58 Swim
0:02:31 Run to Bike
0:02:04 Bike Transition
0:46:10 Bike Time
0:00:33 Transition
0:28:34 Run Time
1:31:53 Total Time