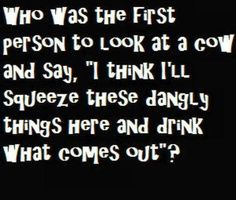 Nothing like a cold glass of MILK, I used to think as a child. No so much as an adult. I was fortunate to develop a natural aversion. Cheese, is more challenging to avoid. Unfortunately many of us have been duped into thinking milk is so good for us. I don't expect the subject to be popular, but it should be explored.
I have heard raw milk is a healthier choice. Breast milk from humans is the preferred food for babies over formula if possible.
Back when I was in college, I took physiology. My professor a Dr. taught students milk is not as safe as once though. So I started searching on the web to find out some facts.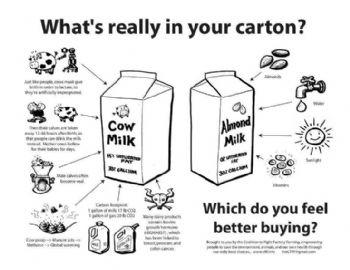 He said he won't drink it or any dairy products.
He said it can cause autoimmune issues and other health problems in humans.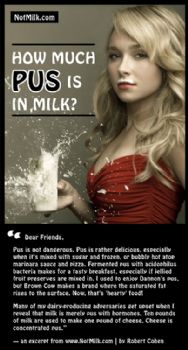 I learned it was true. There are articles which explain far better than I can on many websites.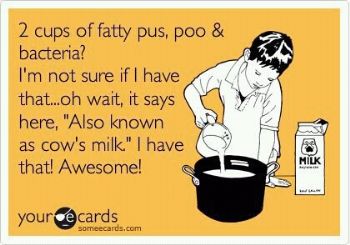 I learned milk was full of PUS and other things. Many which are not killed by pasteurization.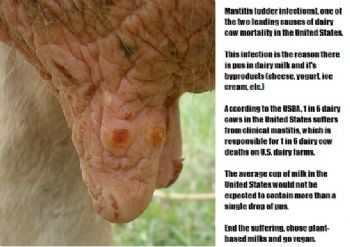 www.notmilk.com has tons of documents on the effects of consuming dairy on our health. I encourage you to research the facts.
I found this article where researchers show the relation between milk consumption and disease. "
There has been long-standing opinion that cow's milk consumption has a role to play in the development of MS. The dairy MS link has been strongly supported by recent high quality epidemiological work.1,2 These researchers found a very high correlation between cow's milk consumption and MS all around the world. Laboratory work from Germany and Canada now provides a possible explanation of why this may be so.3,4 A number of cow's milk proteins have been shown to be targeted by the immune cells of people with MS. Further injecting them into experimental animals has caused lesions to appear in the central nervous system of the animals. The cow's milk MS link is further reinforced by the finding that certain proteins in cow's milk mimic part of myelin oligodendrocyte glycoprotein, the part of myelin thought to initiate the autoimmune reaction in MS.5
Not only is it likely that there is a strong dairy MS link, but there seems to be a link to diabetes as well, with similar suggestions now being made for cow's milk being involved in its causation. Indeed, medical researchers are now so concerned about this that a worldwide study has begun in which children are being kept off cow's milk to see whether diabetes can be prevented. Another very important study into the degenerative neurological disorder Parkinson's Disease found that people who consumed more dairy products had 2-3 times the risk of getting the disease.6 This result is very likely to be correct as it involved over 135,000 men and women in the US, and used stringent methods for collecting data on food consumption. The researchers speculated that dairy products may have a generally toxic effect on nervous tissue." Site: http://www.overcomingmultiples
clerosis.org/About-MS/Caus
es-of-MS/Cows-Milk-Connection/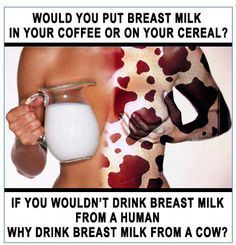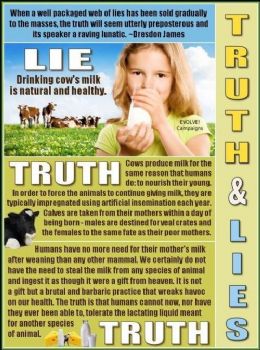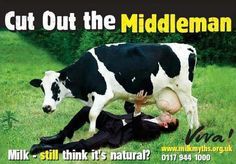 Gross.
I had not idea it was linked to autism. WOW.

According to this article : The calcium in milk is not easily absorbed by our bodies. "The Truth About Milk By: Dr. Greg Orcutt
This bit of truth is often a hard one to digest. Pasteurized milk despite what the Dairy Industry leads us to believe is not good for you, and in fact is actually quite harmful.
Thank god you can't fool all of the people all of the time. Although this hasn't stopped the American Dairy Industry from trying. Some may remember the school dietary education programs paid for by the ADI in the 1950s that claimed milk was good for you. We were told it was good source of calcium for our bones, teeth and prevention of osteoporosis. We were lied to. What we were not told is the following facts about milk.
Fact #1 Calcium deficiency due to lack of calcium in the diet is not known to occur in people.
It does occur when there is malabsorbtion due to high concentrations of phosphorous and denatured protein.
Fact #2 When milk is pasteurized the heat kills all of the good enzymes that help to digest it, including Phosphatase which is essential for calcium absorption. Phosphatase when present breaks down phosphorous compounds. Without Phosphatase the abundance of phosphorous binds with the calcium limiting the amount of absorbable calcium.
Fact #3 The pasteurization process also denatures the milk protein casein which will bind with calcium making it unabsorbable. The denatured casein is very difficult for our body's to digest as it requires excessive amounts of energy to expel it from our system. The coagulation of denatured casein adds to mucoloid plaque that will block absorption of nutrients.
Fact#4 Milk does not prevent osteoporosis. In fact pasteurized milk contributes to osteoporosis by forcing the body to demineralize/steal calcium from the bones and teeth. The highest incidence of osteoporosis have been reported in Scandinavia, Germany, and the U.S., especially states like Wisconsin where dairy consumption is the highest. (Appleton, Howell, McDougall. Douglas). In Asia and Africa where there is no dairy products there are very few cases of osteoporosis. " Source: http://www.orcuttchiropractic.
com/subpage8.html
Other sources of calcium which are more easily absorbed can be found here.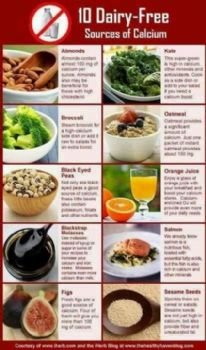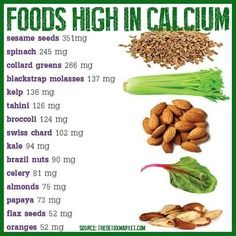 Trying to wean ourselves off of milk is hard. Cheese, ice cream, and milk is addicting.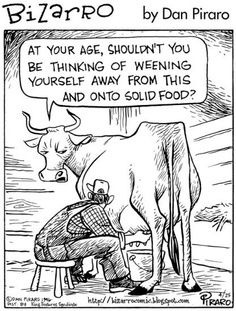 Breastfeeding from a cow, gross.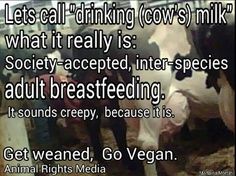 Want to encourage cancer to grow? One in three adults get it. Milk can help.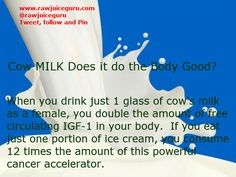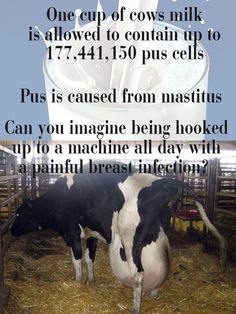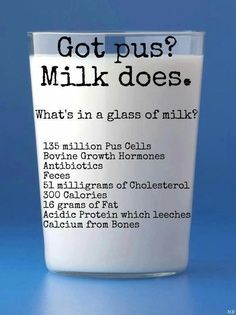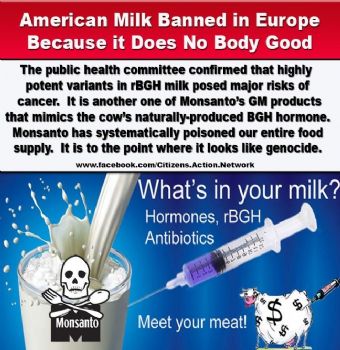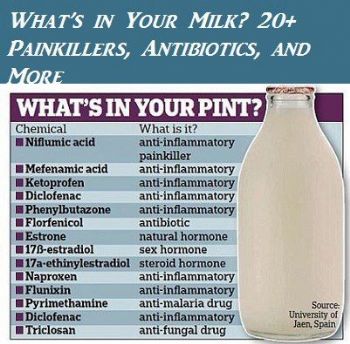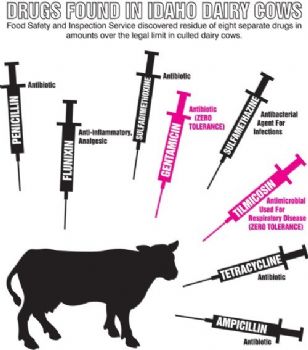 Instead of milk I make my own almond milk or cashew milk. It's super easy and tastes yummy. It's easier to swallow than pus.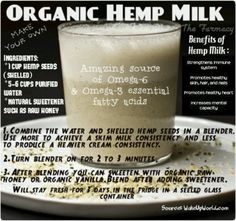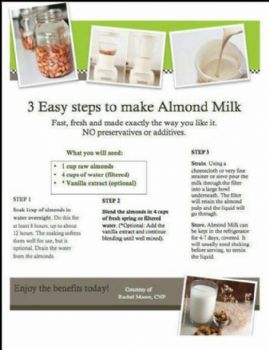 There are so many nut milk recipes available online, even chocolate. If you want more calcium you can make the milk out of sesame seeds. Hemp for beneficial oils, there are so many possibilities.
Homemade Pecan Milk You'll need: 1 cup raw Pecans 1 tsp vanilla extract 2 pitted dates OR 2 Tbs honey, agave, or maple syrup OR a dropper of liquid stevia (optional) tiny pinch of sea salt (the salt actually brings out the sweetness!) 5 cups water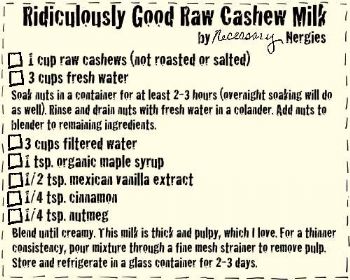 It's easy to make a very rich ice cream out of nut milk. Oh and I made in the past a macadamia nut cheese. YUM. It's not the same as cheese, but it has an incredible flavor that helps overcome cheese cravings.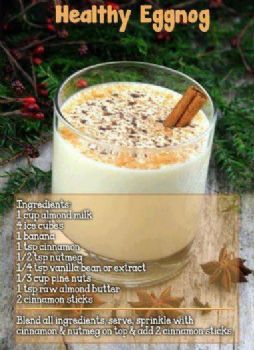 Do the research, make your own choices.