This is day 2 of my 30 day experiment. The rules? Drink LOTS of water. Make the healthiest choice possible. Go for at least 3 short walks every week (about 30 minutes/week). NO checking the scale. And most importantly, LEARN all I can about getting healthy. It might sound like I'm being way too easy on myself. That doesn't sound like a diet at all, does it?
GOOD. It isn't supposed to. I'm not going to deprive myself. I'm not going to force myself to eat anything I don't want to eat just because it's "good" for me. I'm not going to force myself to work out every single day. I'm not going to obsess over the scale. Why? Because this is a process. I'm teaching myself how to treat my body. I haven't been very nice to it for the last ten years, which is saying a lot since I'm only 22.
This is about learning new habits. This is about learning how to cook healthy meals instead of hitting the drive-thru. This is about going at my own pace to learn what works and what doesn't. I don't want to get burnt out on eating fruits and veggies, chicken and fish constantly. I'm going to learn different ways to prepare the same foods so that my taste buds don't even realize it's the same base food.
I'm not even going to count calories. Yep. I'm serious. This isn't about numbers. It's about habits. So, for the next four weeks, I'm going to work on the nutrition aspect. We'll see how that goes and then maybe we'll start adding in other things.
My mom and I have been texting constantly for the last couple of days, brainstorming and researching. She's going to be my rock though this. Wherever you see (***), that's her texts.
***It's a new day! Seek the beauty within...And feed that beauty with good stuff because you are so very much worth it!***
This morning at work, a lady brought in McDonald's for all of us. She offered me some and I politely turned it down. She kept offering. I kept telling her I wasn't hungry. She finally let up. But then the boys all wanted to know why I wasn't eating with them. I wasn't about to tell them why. I just went into the office to start doing paperwork and get away from the smell of that delicious sausage, egg, and cheese bagel that (literally) had my name on it. Unfortunately, my buddy followed me in so we could talk while he ate. I texted my mom and told her about the McDonald's.
***So you might miss out on the tasty greasy stuff, but your body will be so thankful for it. 'I choose to nurture my new and growing cells today.' We wouldn't give a baby a bottle of grease. Why?***
I mentioned how hard this is.
***Hard, but so very much worth it. You are freeing yourself from being another statistic and trading it for being another success story. 'I am another success story in the making'...'My journey may be hard, but I am tough'...'I am worth it!' It's your time. I know it is! It's finally your turn to make a difference....And all for you! It's not about the work folks who set bad examples. All of the sudden there is a shift. This is your life and you have made a decision to take it back and remold you into who you want to be...Not complying any longer to being who people assume you are. You will show them! You will do this in spite of them and their poor health choices. You are strong, you are determined, and you CAN and WILL achieve this goal.***
I reminded her how impatient I've always been.
***Maybe that is part of the equation...Maybe this is the act that provides the lesson on patience. Say goodbye to yesteryear because its a brand new day! Yesterday was the first day of the rest of your life! This is day two. Be jubilant, be giddy with excitement. No need to look back because you are creating the you of tomorrow!!! And it's a fantastic journey! How lucky are you that you get to make this journey while you are young!***
I told her that I'd drank 32 oz in a short amount of time and had to pee. Really bad.
***Every time you pee shout "yes!" (In your head, of course) just knowing you are peeing out all the stuff that would normally attach itself to cells and make them swell. Your kidneys thank you!***
Yes, she's weird. We're both well aware. But how encouraging is she?!
We spent a lot of the day talking about other healthy foods to buy at the grocery store and tried to come up with some ideas for smoothies. We even tried our own recipe (over the phone) tonight. It didn't turn out that great, but we came up with ideas on how to improve it next time.
This is the first time that I've tried this where I didn't feel hopeless. I feel like I might actually make it work this time. This four week (29 day!) thing is going to give me a chance to research and find things that I like. Maybe I won't feel deprived and binge. Usually I just take everything I like away, but this time we're coming up with substitutions and I think that'll make a difference.
***If it's processed, be leary. If you can kill it, pick it, or grow it…Go for it.***
***So if you are out eating, a trick I learned from a woman who lost 210 lbs was to ask for a to-go box when you place your order. The first thing she would do was put half of her meal in a to-go box and have the next meal already planned. She said she used to be embarrassed by it and would apologize for it until she decided it was her life and she wasn't going to be sorry for making things work for her.***
I was thinking about how labeling foods as "good" and "bad" makes me feel. Instead, we've been using "healthy" vs. "unhealthy." I'm trying to be good to my body, so feeding it healthy things is important.
Today was definitely a success. I spent a couple hours roaming the grocery store. I spent quite a bit of money, but I bought a lot of things that should last awhile. When I got home, I split a lot of things into separate portions. I split up my broccoli, mushrooms, and carrots into snack-size portions. I got turkey pepperoni (for pizza!) and split that into several snack baggies. I got unsalted tortilla chips and separated those out into the proper serving sizes. Everything I got that was possible to put in baggies, I baggied.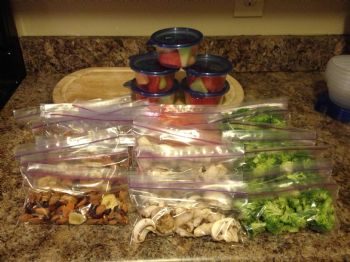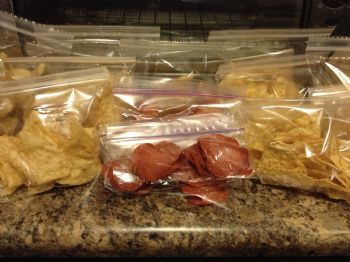 Quick summary:
I drank a total of 96 oz of water.
For breakfast, instead of that yucky, greasy, hard-to-digest sandwich that lady brought me, I grabbed a Kashi GOLEAN CRISP Chocolate Peanut Bar at work. I wouldn't call it very crispy, but it IS chewy, yummy, AND filling. It filled me up quick and I was actually content thanks to the chocolaty taste. I even washed it down with 32 oz of water. A couple hours later, I had this weird sensation in my stomach. And there were odd noises. I was HUNGRY! I haven't LET myself get hungry in a very long time.
For a snack, I bought some Blue Diamond Whole Natural almonds. They have fiber and potassium benefits and are low in carbs and high in protein. Though the calories and fat might seem a little high, it's a good kind of fat and those calories will act differently than, say, a candy bar, once inside your body. The benefits definitely outweigh the calories (yet another reason NOT to count calories!) My mom knows I'm a mindless snacker and suggested pumpkin seeds, as well. She said if I buy them in the shell, I'll stay busy getting the seed out.
For lunch, I was definitely not prepared since I hadn't been to the grocery yet. I went to Subway and got oven roasted chicken on flatbread with lots of extra veggies and vinegar instead of mayo. It tasted good AND it was a healthier option (I could have gone to McDonald's, Wendy's, Popeyes, etc.).
For dinner, I decided to try one of the new recipes I found. I've never been much of a cook, so I chose something simple. Turkey Chili.
It's so easy:
-1 can of tomato sauce
-1 can of diced tomatoes with chili seasoning
-1 can of corn
-1 can of black beans
-1 can of seasoned chili beans
-1 package of ground turkey
-2 tbsp chili powder
I browned the ground turkey and added it to the rest of the ingredients, which were already heating up in a large pot. I brought it to a boil, then reduced the heat, covered it, and let it simmer for about an hour. I added a little bit of cheese and sour cream and topped it with crushed unsalted tortilla chips. Honestly, I could have done without the extras. It was amazing by itself. I had a small bowl and split the rest between five other small bowls.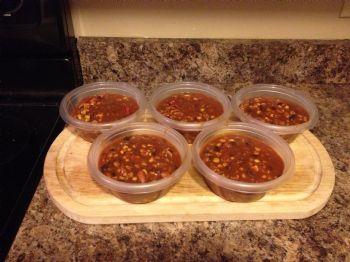 I'm so excited and so proud of myself. This isn't like the other times I've attempted to lose weight. That isn't the goal here. This time I will be successful.
Renegade out