Friday, September 13, 2013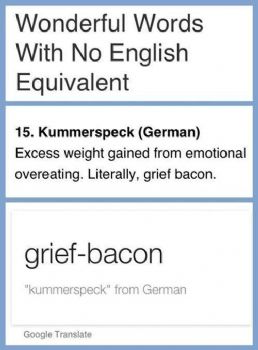 I do love those Germans! Yes, my excess weight is all due to grief-bacon!
It's true and I did drink wine to relieve stress. As a result, I don't have love handles, I have grief- bacon!
The German language is nifty indeed -"It's not easy to speak German. You can choke to death on the gutturals. On the other hand, only in German is it possible to invent an entirely new word simply by mashing a couple of old words together. And because words are mashable in German, Germans can give names to the dark fears, shadowy anxieties, and hard-to-define experiences that go unnamed in other languages. In fact, to describe the following German compound words in other languages you need -- as I do -- an entire paragraph."
More examples at
www.corpse.org/archives/
issue_2/critical_urgencies
/wevespe.html