Good morning Sparkers,
Food planned and tracked - Done
SparkPeople 11-Minute Seated Cardio Workout Video - Done
SparkPeople: 9-Minute Seated Arm and Shoulder Workout - Done
Soup of the day: Lentil, Barley, & Vegetable. Here's a link to the recipe.
recipes.sparkpeop
le.com/recipe-detail.asp?r
ecipe=2572051
-----------------
Today I'm drinking spa water for the first time. I got the idea from the BLC-23 team a few days back.
Spa water in jars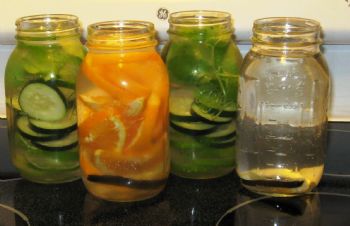 Spa water ingredients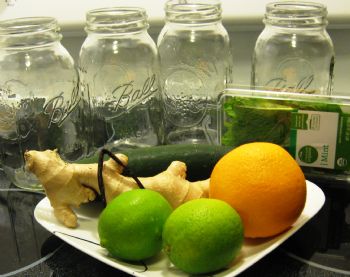 I'm making 2 jars of mint/cucumber/lime
1 jar of vanilla bean & orange
1 jar of vanilla bean and ginger
My partner and I both really like the vanilla & orange. She didn't care for the cucumber/mint/lime and I don't like it as much. I haven't tried the ginger one yet. I don't know that I would do this every day. Probably more as a special treat. I think the orange/vanilla one would be great with some frozen raspberries dropped in and I also want to make one with watermelon & cantaloupe and another one with pineapple.






===================
In my 55+ team as part of a challenge were were asked to share/blog about what features we found helpful on sparkpeople.
The thing that brought me to Sparkpeople was their recipe calculator which is very helpful and free. The free nutrition and exercise tracker is also a huge benefit and although I know it's childish, I like getting spark points and spark awards for fitness minutes and attendance and such.
I'm running the sparkcoach program every day which helps to reinforce what I'm doing as does blogging. I've gotten lots of encouragement and well wishes from people who I know would love to see me succeed which is wonderful.
The topic of teams is complex. When I read the spark book, I was surprised that Chris Downie said there were 10,000 teams on SparkPeople. I've searched for teams and joined lots of teams, some having more then 25,000 members and yet they are very quiet and inactive. Is it possible there are too many teams? Or is our attention span gotten too short? Or perhaps the technology is just pulling people in a new direction. I'm familiar and comfortable with discussion forums because I've played on them for 15 years but I don't have a smart phone and I've never texted anyone or sent a tweet. I think it's possible that this kind of team format may not survive into the future.
Although, having said that, the BLC-23 team seems very popular. I've noticed that people love to sign up for stuff but then they quickly lose momentum, so perhaps it's the 12 week duration of those teams that makes it work. We'll see. I'm very curious about the promised unveiling of the new Spark America website.
I don't think humans evolved to deal effectively with the rate of change we are experiencing due to technology. We can't follow the examples of our parents or grandparents when it comes to how we should interact with the world. I am choosing to look at it as wonderful and fun but I'm human and the ground quickly shifting under my feet does cause me to catch my breath from time to time.
====================
I'm reading 'The Beck Diet Solution' with a group in my 55+ Female team. Here's a link to the thread.
www.sparkpeople.c
om/myspark/team_messageboa
rd_thread.asp?board=19834x
9682x54330081&
We're on day 30 of 42 and the topic today is "Stay in Control When Eating out". Here is what I wrote for today's thread response.
-------------------
Good morning team. Several years ago I stayed on my food plan over a year, lost over 100lbs, and then fell off plan when I spent 3 months staying out of state with a relative who was ill. Even after I got home I couldn't turn things around for nearly two years and I regained all the weight I lost. I share this because this experience has caused me to be very concerned that I can't stay on plan when I'm away from home. So here is my plan which I am keeping a copy of in my handbag.
===========
===========
Away From Home Food Plan Strategy
Day Trips
1. When possible, plan errands and short trips so they fall between meals.
2. Pack a lunch. Thermos full of homemade soup, or green smoothie in the small ice chest.
3. If you are unexpectedly delayed, practice hunger tolerance, buy/drink water.
2-3 day trips.
1. Stay in hotel with a fridge and a microwave
2. Bring homemade soup and smoothies in a cooler.
3. Bring instant oatmeal or healthy instant rice pilaf cups.
3-30 day trips.
1. If staying with friends or relatives, talk to the homeowner and make arrangements to cook/prepare your usual foods for yourself or to share.
2. If staying in a cabin, condo, or hotel unit with cooking facilities, purchase and cook what you normally would eat at home.
3. If you are staying somewhere without cooking facilities, the following options would meet the guidelines of the McDougall food plan you are following.
a. From the grocery store
i. Prepared salads
ii. Bananas and other fresh fruit
iii. Fresh Vegetable Trays
iv. Wasa crackers
v. Fat Free Granola
vi. Whole Grain Bread
vii. Vegetarian Baked beans for bean sandwiches
viii. Avocado and tomato for sandwiches
ix. Almond butter & fruit preserves for sandwiches
b. If you have no other option but to eat in a restaurant, consider the following.
i. Steak houses are often a good place to get a plain baked potato and a trip through the salad bar.
ii. Order plain oatmeal or dry toast and fruit for breakfast.
iii. Request plain steamed vegetables and plain rice or a plain baked potato for lunch or dinner.
iv. Ask for a fruit plate.
So that's my strategy. I've eaten in enough restaurants, sampled enough food, had enough treats for one lifetime. My maternal grandmother who lived in rural North Dakota could probably count the number of restaurant meals she had ever had on one hand. I've eaten in restaurants from Skagway, Alaska to Memphis Tennessee. There is so much more to life then food and I'm going to focus on the non-food fun stuff.
-----------------
OK, that's more than enough for one day's blogging. I'll be back tomorrow.