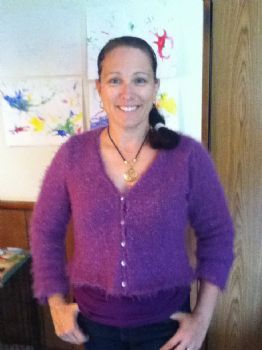 (The background images are courtesy of Little Bear. Those are his favorite "finga paintings.")
So this is my first actually finished sweater that I've knit by hand, and I finally sewed the last buttons on last night. (I'm not crazy about the way this hangs. It's supposed to be cropped, but I don't care for that. It makes me look fat. I'll probably never button it, but oh well.)
Little Bear was watching intently, so I took all the sharp things out of my sewing box and let him play with the spools and buttons. He took a plastic tapestry needle and pretended to sew a button onto his monkey doll. Momma so proud! He's so very curious about these things.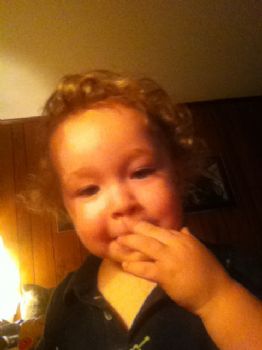 Of course, once the camera came out, there was no stopping him. But this cracks me up -- check out my profile pic, and then check out his favorite pose: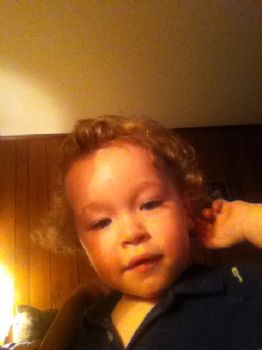 LOL
I didn't feel like working on my lace scarf that I started last week, so I went back to spinning. I'm a really bad spinner, and my fingers are now stained pink from the dye in the wool, but I'm enjoying it. When I get the rest of that batch spun, I'll post a pic.
Little Bear must wonder WHAT on earth Mom is always doing with her hands and feet -- and why. I asked him if he wanted a drop spindle of his own so that he could do his own spinning and knitting. He responded thusly: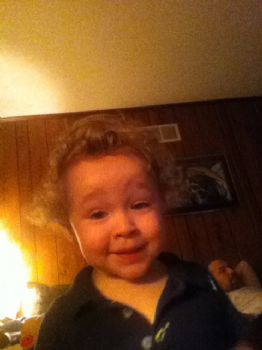 "You know you can BUY socks at the store."
We spent the rest of the evening drumming on my djembe. It stands almost as tall as he does, but he does love it. I'm thinking of getting him a set of bongos for variety.