I was on another webpage the other day, just doing some research and sports reading. I stumbling across a thread where the runners were talking about those of us who put those stickers on our vehicles. The 13.1 or 26.2 oval shaped things.
There was a lot of cyber-sneering going on. Like, why do you need to advertise? How pathetic are you that you feel the need to show the world you ran 13.1 miles? Big deal, you ran a Half Marathon., how insecure are you? Bunch of losers. Stuff like that.
I'm picturing a buff 23 year old, with the whole world in front of him, the picture of health, a strong runner who probably works out all the time, sitting at his laptop, typing away. And his look-alike athletes across the country, returning the thought, agreeing wholeheartedly. I know... but it's what I pictured.
I thought, "How sad. How easy for these fortunate, for the time being, souls to publicly deride the hard work and dedication of those who are, in many cases, turning their lives around". They seem to not be aware that their are so many overweight, tired of looking and feeling unhealthy, people out there. Older people, who wish to stay active and engaged in life. Those with illnesses they've overcome - diabetes, asthma, arthritis, the list goes on. And they run. And they train. And yes, they suffer to get stronger and leaner.
The long awaited day eventually comes - when these formerly unfit folks complete the herculean, for them, task of completing a Half Marathon, or even dare I say, a Full Marathon. Wow! All that hard work, nutritional eating has paid off.
And you choose to deride them when they proudly purchase and display a little sticker which proclaims to the world their accomplishment?
I marvel at those who've overcome their particular adversity and continue to strive for health, and achieve miraculous results in the process.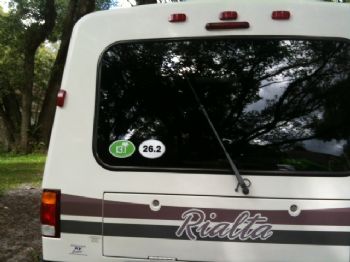 Go get your event sticker, 5K, 13.1 or 26.2 and post it proudly. I am proud of you.
Thanks for reading and have a good day.