Perhaps a little superficial, but who doesn't want to look and feel their best!
From
www.ivillage.com/superfo
ods-healthy-hair-soft-lips
-and-head-toe-beauty/4-a-5
36166?nlcid=dt|05-29-2013|
&_mid=1079634&_rid=1079634.7203.297399
You've heard of superfoods to reduce your risk of cancer, protect your heart, improve your mood but what about some to help you look and feel more beautiful? Eat these foods, look more gorgeous!
#11 - Kefir: Bones
Beauty secret: While calcium has always been a key player in the world of bone health, probiotics (found in fermented dairy products and other fermented foods) are giving calcium a little competition. A recent study in the Journal of Cellular Physiology found that bone density increased significantly in mice whose diets were supplemented with probiotics for four weeks. Researchers from the study commented that probiotics may turn out to be another important treatment option for patients with osteoporosis. Kefir is one of the best sources of probiotics out there!
How to enjoy it: Kefir, which has a creamy, yogurt-like texture, is sold in grocery stores in the dairy aisle. You can drink it like a smoothie, or add fruit, nuts or granola to it for a more filling breakfast or snack.
More foods for your bones: Eat vitamin D-rich foods like fatty fish and fortified cereals. Calcium-rich foods like cow's milk (or fortified almond or soy milk), sardines, tofu and spinach are also good for your bones.
www.foodreference.com/ht
ml/art-kefir.html
tells us that
- Kefir is a fermented camel's milk beverage with a 2 - 3% alcohol content, popular in the Caucasus (a region between the Black Sea and the Caspian Sea). Kefir was originally made from camel's milk, but is now frequently made from cow's milk.
- According to the legend, Mohammed gave the kefir "grains" as a gift to the Orthodox, with comprehensive instruction on how to use them. In exchange, the Orthodox promised to keep the gift a secret.
- Legends aside, the shepherds in the Caucasian mountains have known the drink for centuries, as it was an easy and effective way to preserve milk. It is known that they would leave small amounts of kefir in their leather sacks to cause the fermentation of the fresh milk.
- Some sources claim that Marco Polo mentioned this technique in his diaries.
- The drink wasn't introduced in Russia until early 1900's, when the Tsar commissioned two Caucuses-based cheese makers to bargain out some precious "grains".
- What is commonly known as the "grains" are white clusters the size of wheat kernels. They consist of casein and gelatinous colonies of microorganisms, the most plentiful of which are Saccharamyces kefir, Torula kefir, Lactobacillus caucasicus and Leuconnostoc species. Some of these cultures can be found separately in many cultured milk products, yet is it only in kefir that they grow symbiotically and provide the reported health benefits of the product.
- Another difference between kefir and yogurt, for example, is that the kefir cultures will migrate into the body and spread around the intestines to help them function better and to restore the damaged tissues.
- It is rich in B vitamins, folic acid and reportedly helps to maintain a healthy colon and the entire digestive system.
- *Even the lactose intolerant can safely indulge in it.*
- Inspiring regularity is just one of the benefits of kefir the Russians brag about. Some drink it for its easily digested proteins, some consume it as a major food group while dieting. It is also known as a great hangover cure. Most, however, like kefir for its refreshing, crisp taste and for its reputation as the healthy drink.
- Still somewhat a novelty, kefir slowly makes its way into the U.S., where the most likely places to find it are the whole food stores, specialty grocers and the kosher sections of supermarkets.
- Even though it may say on the bottle that the product contains live cultures, it is often impossible to tell its percentage because there are no strict regulations and the manufacturers are not required to list it.
- It is also important to buy the kefir that hasn't been pasteurized, since the process kills all the bacteria – disruptive and healthy.
- Flavored kefirs might be lower in actual bacteria content, because same as people, the bacteria would rather munch on sugar in the additives than milk, and the product might be not as thoroughly fermented.
- It is also possible to buy dry kefir culture online and make your own kefir.
I've never had kefir, but after reading about all its great nutritional benefits, I'm definitely going to give it a try!
www.food.com/recipe/blue
berry-kefir-smoothie-471603
shares a very simply smoothie.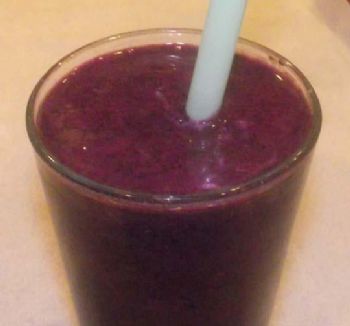 Blueberry Kefir Smoothie
Makes 1 serving.
Ingredients:
3/4 cup plain kefir
1/2 cup frozen wild blueberries
Place kefir and blueberries in a blender or Magic Bullet. Whirl around for less than a minute. Pour into a cup, sprinkle with cinnamon, flax, honey or anything else if you want!
Chock full of antioxidants and probiotics!!!
Nutritional info per serving:
Calories - 42.1
Total Fat - 0.2 g
Saturated Fat -0.0 g
Cholesterol - 0.0 mg
Sodium - 0.7 mg
Total Carbohydrate - 10.7 g
Dietary Fiber 1.7 g
Sugars 7.3 g
Protein 0.5 g
For those who'd like to give it a try, see
www.seedsofhealth.co.uk/
fermenting/kefir_howto.shtml
on how to make your own kefir.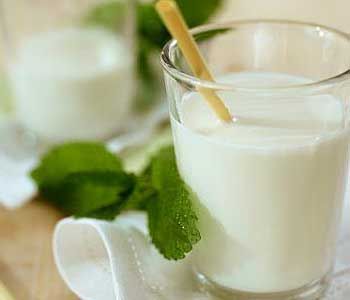 And that does it for this series.