and most days, I want the "parade" to just stop for a bit, take a water break, let me enjoy the music.



Suffice it to say, I'm feeling really down.
- My heart has not been in the 5% challenge this time around. I'm slogging through it, but not actively participating.

-I joined Weight Watchers 2 weeks ago, hoping that the weekly meetings would motivate me and help me get back on track. Yesterday I ate an entire bag of Honey Dijon potato chips...that was my healthy lunch. I couldn't stop myself; I put them away, got them back out again, put them away, got them out again and then I actually hid the bag in my briefcase so no one else would see it. Did I log it? Yes....
-On the same note, the WW scale was much higher than my home scales, so which weight do I use? I've continued weighing myself on the home scale for the 5% challenge, but I feel like I am being dishonest!!!
-Our beloved collie, Spencer, has been diagnosed with cancer. Today we should have the biopsy results, telling us whether it has gone into the leg bone and what type of cancer it is. We are heartbroken and may be facing some tough choices later this week.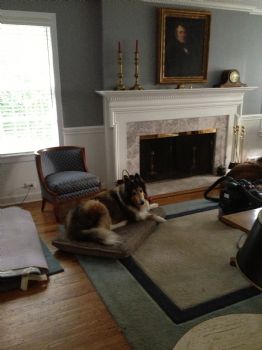 -Yesterday I woke up feeling extremely nauseous. I got up and in my attempt to make it to the bathroom, the room starting spinning and I "blacked out", going down hard, hitting a shelving unit and the wall. Needless to say, DH hurt the "crash" and came running. He got me back to bed, but for the next two hours I was freezing. Took a "work from home" day, accomplished little, barely moved off the couch (less than 1000 steps) and ate potato chips. Yup, definitely feeling bad for myself. Maybe I needed the sodium??? lol
Feeling better today, no nausea, no dizziness. Perhaps my body's way of telling me that I am doing way too much; yesterday I looked at my calendar and the many, many items I "needed" to add to it, or "wanted" to add to it, and I couldn't even pick up the pen to add them in. if that isn't a signal coming through loud and clear, I don't know what is.
Finally, the new studio - coming along but already overcrowded! How did that happen? Here are a few promised pics....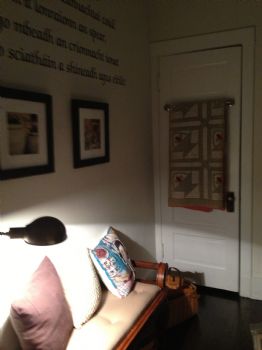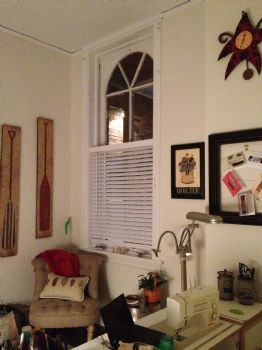 My first two projects have been a bust! ha ha Hopefully I'll get back over today and make them right.
Finally, thank you Teddy Bear team for putting me in the spotlight yesterday! Your timing was perfect! I didn't see it until late last night, so today I will be going back to read everything and remind myself that I matter, and that I can get through the rough patches and be successful and healthy!!!

and

!!!!