Tuesday, September 10, 2013
I completed BLC 22 recently and when asked to post a before picture I shied away from posting "real" before photos. I posted a family photo of me from a year or so ago. I look the same, but I wasn't comfortable having my photo taken.
I have a teammate who recently shared her before and after photos and it inspired me to get some posted. (Thank you Nicole)
These pics are end of BLC 22 results, mid break photo and start of BLC 23 before photo (maybe) all in two photos. If I can get a new set in before BLC 23 I definitely will post.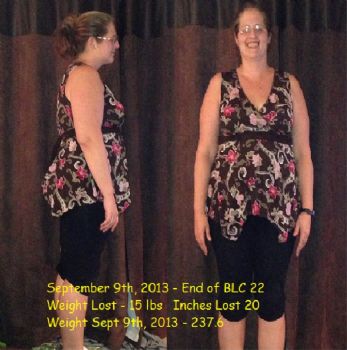 People can see the weight loss. My clothes are looking baggy and too big. Although I see a change, I do not see the big changes. I see small things. I'd like the photos to be up and posted going forwards. That way I will be able to see the difference !
Can't wait for BLC 23 to start and get my butt moving again!