Yippee, Mondays are my new day off, so that makes it a fun day for me now. I just finished a big project and am getting ready to start several more. I felt like I needed to get out of the house, blow out the cobwebs, and get my mojo up and running. So, I took a quick drive to the nearest park and had an exceptionally nice walk on a beautiful morning. Side note: Wow, there were a LOT of shirtless senior citizen dudes out running. A lot. Who knew? More power to them. Rock on, dudes!
Anyway, I just wanted to share the little epiphany I had, while on my mojo walk. Added bonus: We take a short diversion down a nature trail. And guess what? It totally worked, the mojo walk, that is. The magic mojo kicked in, and this little thing I was stuck on budged and some more pieces fell into place. Mojo Moment. When I got home, I wrote down my ideas and then put them aside, so I can take a proper day off. No working! Okay, you and I both know that my real day off is going to include cleaning the bathroom, vacuuming, and laundry, right? Thatís just a given. But hey, itís a different kind of work. lol
Oh, Iím happy to say that my first big work project went really well. I have to report one work-related injury, a rookie mistake with a hot glue gun. I should know better. But one of my SparkBuddies pointed me towards these awesome bandaids a while back, so I was able to share alternative explanations to my Facebook friends every day last week. Heh heh
Shark Bite! Really, honest. It was scary.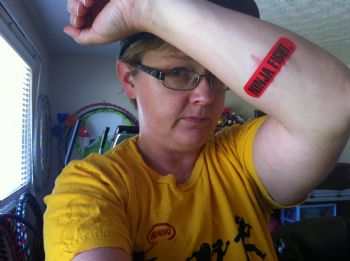 Ninja Fight! Throwing stars leave a mark.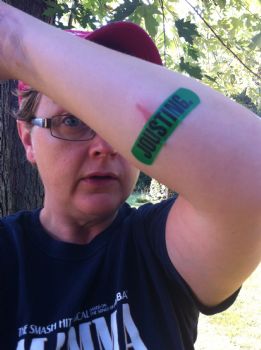 Jousting! So, I went to the Renaissance Festival and things got a little out of hand...
Dance Off! They call it breakdancing for a reason...
Hope youíre staying injury-free and have a great Monday (even it if isnít your day off). Spark ON, Brave Sparkers!