Monday, September 09, 2013
I feel better today. I spent all of yesterday in bed, resting. Losing weight is very physically exhausting. If you think about it... your body is eating itself. I'm being kept alive right now because my body is using energy from those french fries I overate 5 months ago.

My stomach is getting upset because I'm basically freaking out at this point. I got 1,001 awful scenarios in my mind right now which range from "dying in a plane crash" to "losing all my medifast food and starving" to "getting lost and mugged". Traveling alone to a place I've never been to see a crowd of people I've never met is pretty much one of my worst fears ever. BUT I am so glad I'm doing it about 20 lbs lighter. Once I feel that I can be comfortable in my own body, I think I'll be more outgoing in general.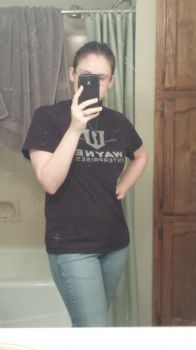 Armed in the only jeans that fit me... I'm as ready as I'll ever be.
106 days left.