Sunday, September 08, 2013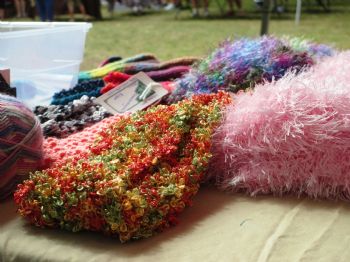 I can't remember the last time I posted here. Oh, now I see, March 2012. Have I been that bad?
I strayed off to the WW site and rejoined and spent a bunch of money.
I tried MedHelp.org and found it to be too time consuming because none of my foods were there.
So, back to my old favorite. Why did I leave? I have no idea.
The photo that I'm sharing is from last Sunday's 2nd Annual Canada Creek Ranch Association Arts and Crafts Show.
I sold a few hand knits. Not as much as I was hoping, but, I think there are a few reasons for that.
First, the weather wasn't tremendously wonderful and not a lot of Ranch members were up. Most were up the previous weekend since it was before the kids went back to school.
Second, disorganization on my part. My presentation was terrible. Now there are twelve months to plan for the 3rd Annual event.