Simple. Healthy. Delicious.
Sunday, September 08, 2013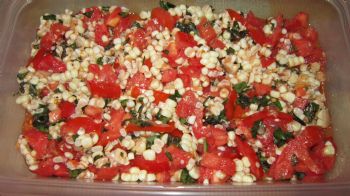 Fresh tomatoes, corn and basil tossed in extra virgin olive oil with sea salt and freshly ground pepper. I am taking this to the cookout/birthday party today. Added bonus is that you do not have to worry about a mayo based recipe going bad (always a concern of mine at potlucks)!
I have all my calories planned out for today with some wiggle room alotted to taste small samples of anything that looks really interesting. I will not bother with anything store bought because I could have that any time. I am more interested in homemade recipes that are specialties for some and therefore they have been tested and passed. I am also looking forward to beer and Maryland Blue Crabs!