Friday, September 06, 2013
People at work at noticing.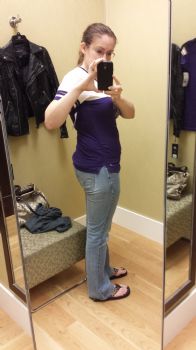 We get to wear jeans and our team t-shirts until the Superbowl on Fridays. I am now a size medium. My coworkers and boss are noticing that I am a lot smaller than I was two months ago. I haven't been saying anything about a diet to the majority. In fact, only 3 people out of the 100+ in the building know. It's so awesome when people notice. But I will get smaller. A lot smaller. I have 30 lbs more to lose!!
I'm glad I get to spend some time by myself at the conference at nights next week. I am PMsing and everything generally pisses me off right now. My hubby won't leave me alone. I know I'm getting sexier but come on, space.

109 days left! Ahh getting close to that 100 days mark.
EVERY DAY COUNTS