Day 6 went really well. Popped out of bed, got everything together for my husband, made sure our oldest was all set, and then got right into it before 7am.
Just like Jillian had said, by Day 6 it seems very tolerable. As I have said, 'easy' may never be something I apply to this, but it is doable and that's good enough for me.
NOTHING was hurting today when I got up. NOTHING. I am very thankful for that, although I may have looked a gift horse in the mouth, haha, because I used the weights on EVERY weight portion of the workout today! I was really proud of myself, but my arms are a little rubber bandy at the moment. Nothing bad, it is just very obvious that they were worked.
I cannot remember if I have said this on here, but while I absolutely DO recommend this workout program, it probably isn't for anyone with bad knees - or a bad back. Of course, I suppose most routines are rough in those cases, but this just doesn't have a lot of allowance for modifications in those areas. Lots of getting up and down, hopping around, and back work - and I hear that only increases in levels 2 and 3.
In other news -My daughter has been asking for a S'mores cake for a while now so, even though yesterday was busy to start with, I slated out enough time to put one together for her. Much like with the Reese's cake I made in June for our oldest son, I didn't use any kind of guide or have much of a plan, I just went to work and this is the result.
Obviously this thing is not disguising itself as healthy in any way, but I did substitute where possible in the recipes and while yes, I DID try a slice, mine was a very tiny sliver - which was just enough to feel like I'd had a 'real' dessert, but not so much that I felt bad at all! (Plus, I do not really care for S'mores anything, so that helped!) My counts came in perfect and everyone was happy with their cake, so win/win!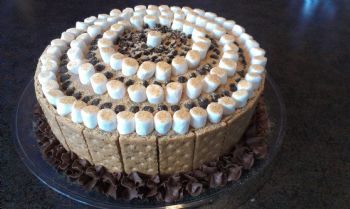 It's Friday! :)