Author's note...I have no clue why some of the pictures are upside down, because they are correct when I put them in the blog.....technology and I are on the fritz lately
So back on Labor Day Monday, I ran my first 15k....
Lets just start out that I had to meet my sister at 7 am, and there wasn't a car on the road...cause lets face it, everyone else sleeps in on holidays!
Anyways, we got to the race and picked up our bib numbers and what not...and thankfully got in the portapotty line which was nonexistent, because about 10 minutes lat the line was super long...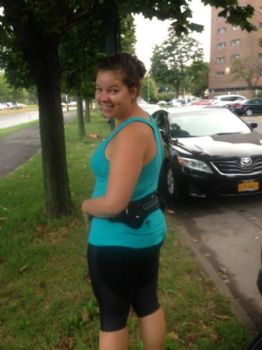 I had recently ordered a fitletic (ifitness) hydration belt, and needless to say was not impressed. I finally got it fitted, I wore it in the back because it was uncomfortable on my belly. Needless to say, it leaked. It leaked until the bottles were half empty. And where, might you ask, did the sports drink go? Why all over my spandex shorts and shirt...it was sticky and wet and uncomfortable. I will be calling and asking if this is supposed to happen, because I doubt it is. The caps have a race thing, so it's slitted soft plastic in the cap, easy to drink during the race. Except every movement made them leak or squirt, and it took me forever to try and get them out of their little holder. Seriously, they shouldn't be that complicated.
But alas, back to the race....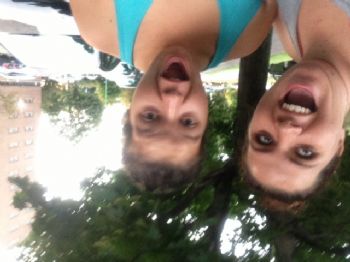 Right before the race, I realized I forgot my sunglasses in the car. This was the determining issue of how well the race was going to go.
Mile 1 - 10:34
I started running it out with my sister. It was nice. She did not enjoy the squirts from my water belt though. We split before the first mile though. There were lots of people running in front of me, and we were running out by the water, so there was this amazing breeze.
Mile 2 - 11:31
I found a woman who was running at a decent speed, so I paced her. This was the mile that I Realized getting my water bottles out of the holders was quite impossible. Decent mile along the water and into the city.
Mile 3 - 12:21
This was a tough mile. When I hit the 5k mark, the leader was coming back through. He totally kicked butt! Anyways, I was starting to get tired, so this is where I designated my run for two/three lights, and walk for one. Thankfully, this was keeping me on pace.
Mile 4- 13:04
Oh the hills! How I despise hills! There was this one ginormous hill on the course, or at least it felt that way. I did a little more walking. This is where I lost my original pacer but found another guy to pace who was much more at my level.
This is also where the cop car pacer came and passed me, but after a quick walk up the hill, I did manage to get back in front of him. Not exactly sure what pace he was driving at, but it annoyed me that he passed me.
Mile 5- 12:21
Shade! Shade and a breeze in the hot, humid morning. It was the closet to heaven I got on the course. This was also the turn around spot for the course. I kept pretty good pace but was definitely starting to get tired. I was hoping to see my sister for a high five, but we misread the course map and didn't realize that the turn around was actually a block of streets and not just back down the same street, so no high fives :(
Mole 6- 12:58
And this is where it went downhill, and fast. Literally. I was runnin along, minding my own business, when I went to slow down to a walk, my left foot decided to curl my toes under, sending a Charlie horse up my leg. In my attempt to stop the Charlie horse, I tried to put my foot down mid step, which resulted in a quick trip to meet the city pavement. Yea, it was a great meeting. But I was up and at'em again, before any help arrived.
This is where I learned my run for two/three lights was impossible. Those lights were like ten miles apart :)
Mile 7- 13:20
There was a great water stop on this mile, I definitely know the perks of running in the back of the pack. When the water station runs out of cups, they hand out bottles of water! Can you say awesome? So I guzzled my bottle of water (my poor tummy didn't like it either). This is where things got painful. The fat, mushy part, on the back of my knee, like the back part of your leg where it bends, started hurting. It felt like it was being pulled constantly. Not like painful painful, but annoyingly painful. I would also get random Charlie horses that made me stop running. And worst than that, I had a pain in my foot. Remember when I told you about hurting my foot on the laundry basket, well this pain was from that. It was directly under my two smallest toes on my right foot when I put weight on my foot (either walking or running). It got to the point I had tears. It felt like it was broken, it was painful. I kept telling myself it was in my head, but my head knew I was lying. I tried focusing on the music, and pacing the person far in front of us. There was a whole heck of a lot of walking at a turtle's pace. I finally realized that if I ran and put pressure on the ball of my foot instead of my whole foot, it want as bad. And eventually, within the next mile, the pain finally went away (thankfully)
Mile 8- 13:13
There was a nice, gradually steep down hill, and I flew down it. I think I would've been faster rolling down it, but hey, it was mile 8, and my flying felt nice. I was tired, hot, sweaty, cold, and wanting to be done. No more water stops. This is where I lost my guy pacer. I was pacing a mid thirty year old man with a beer shirt. I did manage to pass him on the downhill. I was also pacing/passing/being passed by a much older man(who turned out to be 70, awesome for him).. He was my new competition.
Mile 9- 12:25
I kept up with my new pacer and was in desperate need of water. There weren't many people left, and the buildings weren't that exciting. Still more Charlie horses. Most of the volunteers would clap and what not, which really helped when you had no motivation left but to curl up into the fetal position and remain there until someone decided to come help.
Last .3- 4:31
Me and pacer guy almost got hit by ditzy woman (dont get me wrong, i am a woman, but seriously, she was stupid) driver. (Volunteer told her to pass through AFTER the girl in the blue shirt, me, so I sped up so I was much closer to the man, and she gunned it and almost took out the man, like seriously people, huge metal car, very mushy human body..,think). Anyways, we made it to the finish and I pushed with everything I had. The Charlie horses were there, but I ran through them. Although by the look on my face, you could've assumed I was dying instead of running.
Finisher!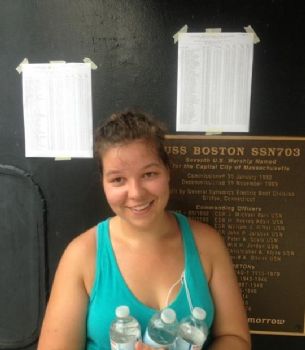 1:56:06
My electrolyte drink seemed to help, but so did the large Wendy's frosty afterwards. There were body pains, but the compassion sleeves helped. My head still hurt, but not as much as usual. And the headache didn't last for days either. I did sleep for most of the day, but have been functioning each day nicely yet.
But dear runner friends, has anyone had that weird pain in the back of their knee? And if so, what did you do to get rid of it? Has anyone tried the compression sleeves that are for your knees? Or would a brace be more beneficial?