I was perusing the Internet, as I am wont to do, when I came across this amazing blog:
fatheffalump.wordpress.c
om/2012/08/15/its-all-abou
t-colour-unless-youre-fat/
This brought back "wonderful" memories of clothes shopping when I was 268 pounds. And by "wonderful", I mean "nightmare-inducing dread".
Unless you go to a store specifically catering to the plus-sized crowd, 90% of what you find in Macy's, Kohl's, and Target are exactly like what this author describes: shapeless, ugly, "Old Grandma" clothes in drab colors. If you do go to a specialty store, be prepared to spend a good amount of money for a blouse (I've seen in excess of $60 a shirt!).
As a twenty-something, I wanted cute, fun clothes. I wanted to be like those women in the articles, flaunting curves and whatnot. I wanted to be like other women my age, able to find cute clothes for all sorts of events - fancy evenings, sporting events, a day at work, a movie with friends, whatever. Instead, I was stuck finding something that would fit across my body like a potato sack - lifeless and boring.
Now, I know I was fat and unhealthy. I wasn't eating right, I rarely exercised, and I wasn't getting good sleep. So obviously, I needed to lose weight, which "cured" the clothing problem.
But still, shouldn't plus-sized women get cute clothes too? What about women like Holley Mangold, US Female Heavy-Weight Champion?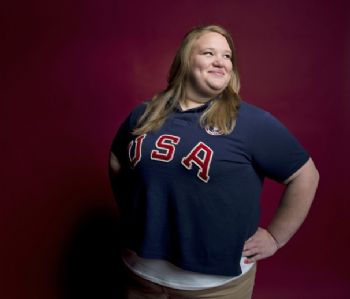 This woman will be able to lift more weights than I can even dream up - should she be excluded from looking pretty because she can't fit into a size 16 and is over 200 pounds?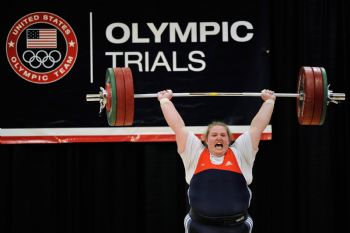 This is why HEALTH is so much more important than WEIGHT. Not every woman who is considered "overweight" or "obese" in the BMI range is actually unhealthy. (I was NOT one of those women, but not everyone is like me.) Not every woman who is considered "healthy" in the BMI range is actually healthy. And EVERY woman, regardless of her size, deserves to find clothes that make her feel sexy and awesome. Maybe if *I* had been able to find sexier clothes as a size Whatever, I wouldn't have had such a lack of respect for my body and would have been able to lose weight sooner.
So although I'm not plus-sized anymore, I still feel for every plus-sized woman who goes into the store dreading the experience and pretty sure she is going to come out empty handed. Hopefully, our stores and our clothing lines will wake up and start making cute, fashionable clothes for ladies that aren't in the 0 - 16 range.