Last night I did a blender full of greens - a huge amount, and I really started feeling better. Then before bed I hit the sweets, and this morning am once again feeling sick. So I'm back on the greens.
I know from experience that when I am fighting a cold, that if I eat sugar the cold 'whammies' me, but if I concentrate on greens and vegetables the cold quickly disappears.
It is really, really hard for me to stay off the sweets, but hating how I feel with a cold certainly has to win over love of sweets…
The last 2 days I have been bingeing due to stress. The 'evil woman' that has been harassing me from another site, has really stressed me out. She is supposedly a counselor, but one of the sickest people I have ever spoken to - next to Chuck. Actually, she is very much like Chuck, but more in-your-face nastier, and really evil dirty. Course she is on 'mental disability' but still calls herself a 'counselor'. Anyway, the stress has been so bad from the messages she sends to my inbox, that even with the bingeing I have lost a little bit of weight.
Last night at 10 pm, Chuck asked me "how I was sleeping with the new arrangement in my bedroom". I said, "Good". He said, "What do you like about it?" I said, "I just like it." He pressed… He said, "Well, what do you like about it?' I said, "I just like it." He said, "Well, how's the light now?" I said, "Actually, I see less light at night now than I did before."

He said, "Well, do you hear anything at night?" I looked at him quizzically, not understanding what he was talking about. He said, "Well, your headboard is up against the outside wall now; do you hear the traffic?' I said, "No. I haven't heard anything." (end of conversation).
So, what-do-ya-know… During the night I was woken up twice with light, repeated tapping on my bedroom floor - from below, his tapping on his ceiling, which is my floor. WTH!?

He did this when I had my own house. He would pick the lock of the back door to the garage, and then go down into my basement and then pound loudly on my floor with a broom handle. I didn't know at the time that it was him, and it really terrorized me, cause I didn't have a clue who was in my house. Later when I found my air compressor missing from my garage, and I was going to call the police, he admitted he was getting in.
But, for him to get up twice last night for the sole purposes of disturbing my sleep, well, it just seems really evil. He is evil. I would think he really needs his sleep being he works so much, but then again when he sleeps he sleeps really good, and he does take long naps several times a week. So I guess he gets enough sleep that it is no great loss if he wakes himself several times in a night to harass me, cause after all he falls right back to sleep, where he knows it takes me a long time to go back to sleep.
With the harassment I am going through online (from another site), and Chucks usual cr@p, well it just saddens me to have MORE cr@p coming from Chuck, especially when it is so calculatedly mean. Absolutely no purpose to it other than viciousness. I shouldn't be surprised, cause I know this is what Chuck is about. But, it does really depress me. Like I've said before, "I feel like I'm in a spiders web", and this kind of harassment just makes me more aware that he is a 'spider'. I finally realized some time ago that the reason I developed an extreme spider phobia after I married him is because my subconscious was trying to communicate to me how trapped I was in 'the spiders web'.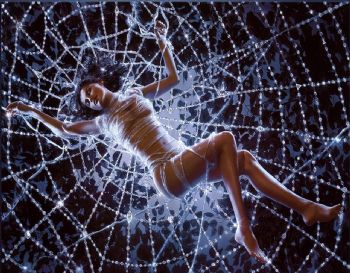 Even consciously I knew this, but I buried a lot of feelings in just trying to put one foot ahead of the other, and get through each day. So, my subconscious created this metaphor for me, to 'wake me up' so to speak. As I have learned about narcissists and sociopaths, I have really realized why I feel like Chuck is 'a spider' and feel he is 'all over me' - cause his behaviors are such. And as I have learned, and as I have become more assertive with him, my spider phobia has greatly lessened.
Also, last night Chuck was telling me how it gets through locks at his job, say if someone loses their key. He said "he can pick a lot of locks - basically by jamming something into them and then either jiggling it around hard or slamming it in which makes the pins fall - or if he can't pick them he gets into the door jam with a bar and pops it. And, I do see evidence on my locks that that my locks have been 'slammed' - a deep grove at the top of each lock that wasn't there before. I don't know why he would tell me these things, other than to 'toy' with me, letting me know that he can get into my place any time he wants; that I cannot keep him out; that I really can't make myself safe from him...
I have felt that since I got the secure solid-core door put on, and the best dead-bolt, that he couldn't get in any more. Before that I know for a fact that he regularly got into my apt. He finally even admitted it. But, only after I caught him. I know he won't admit if he is getting in now - unless again I catch him.
Twice lately I have had my folder of passwords moved from where I normally keep it, but each time I assumed I must have just misplaced it. But this last time I had looked all over, and couldn't find it. And after days and days of looking I found it in a spot I had carefully looked through. Now perhaps I missed it - even though it is a very distinctive folder - or perhaps he has been in my place. I don't know.
It's been years and years of never knowing what Chuck is up to…
The more he harasses me the more restrictions I am putting on him, the less he is seeing of me. I have already drastically cut contact, and I don't let my dogs go stay with him any more. Even when I go to the city I no longer let my dogs stay with Chuck, cause I am afraid to come home to one of them injured or killed as he has done before. So, when I go to the city I gate one in the laundry room and put one in a 4 ft x 4 ft pen in my dining room.
One thing I have really learned from what I have gone through with the narcissistic evil woman online, is that there is no reasoning with them, there is no 'winning' with these people, they have to win at all costs, they twist everything into lies in order to win, they actually get pleasure out of stalking and harassing someone else. And, I have absolutely seen the pleasure Chuck has gotton out of stalking and harassing me, even in harming me. So the only thing to do with those types is put as much distance as possible between you and them. If you can't get actual distance - like my situation here - than contact has to be cut to minimal or none.
Today I am once again feeling a mixture of hate and sadness over what is going on here. And, a certain hopelessness… But, I refuse to be broken, and I refuse to give in to those feelings.
Today I am getting out of the house: go uptown, pay my bills, get some groceries, get out into the sun. I need some brightness.