I haven't been in my best mood recently as you may have probably realized.
And, I confess, I have repeatedly – and with overwhelming guilt – turned to food for consolation.
And I have been avoiding the scale (which has brand new batteries and always insists on revealing the truth!)
But I've learned how to deal with these emotional eating crises. Sooner or later I come to my senses and show myself the way back to the right track.
But I don't ever remember having an emotional not-working-out crisis! I would sometimes be tired and lose my motivation for a day or two but I always reminded myself of how much I loved the feeling of strength that exercise gives.
Then, this week, all of a sudden, and out of nowhere, my mind was found in possession of a brand new, fully-automated excuse generator! And every time the thought of working out would cross my mind, it would be instantly turned on and produce the best, most handy and most easily believable excuse!!!
Just take a look at what a brilliant work it was doing:
Sunday: "I don't have time."
Monday: "I'm too tired."
Tuesday: "I did tons of housework so I deserve some rest."
Wednesday: "I'm bored of doing the same old things over and over again."
Thursday: …
What? What is it going to be today? "The dog ate my workout DVDs????????"
No! This had to stop. I had to short-circuit this stupid excuse generator in my mind. And I had to recruit all my common sense to do so.
- Time? It's not about having time. It's about making time.
- Tired? You're not tired all day, every day. Not to mention that lack of exercise leads to a lack of energy.
- Housework? Yes, it's tiring. But it can wait. And mind you, not all of it counts as cardio. Your heart rate doesn't go up when dusting shelves!
- Bored of doing the same? The same old things are the ones that made you what you are today. And going back to basics and to what has been proved to work has always been the number one strategy for getting back on track.
And it worked.
I put on my workout shoes, dusted off my weights and did a full hour of upper body strength training workout. The last ST workout was more than a month ago. I know those arm muscles will be screaming tomorrow. But screaming muscles are a good thing. They loudly praise us for our hard work.
Whether trying to lose weight or trying to figure out what maintenance is all about, excuses are not affordable. They can easily become a habit. And the worst part is that we are sneakily led into believing them…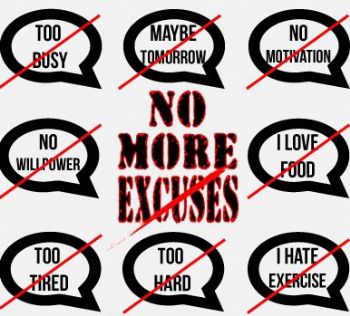 Excuse generator: OUT OF ORDER!