Ok, so here's a warning. This blog may contain semi-graphic descriptions and images. If you are squeamish over the slightest sight of blood, or have a sensitive gag reflex, leave this blog, now. Not that it's really that horrible. Just want to keep my readers safe.
Okay, so you still with me?
Okay, here goes.
So, two Sundays ago I ended my 6 mile run and my nipples hurt.
Two years ago, during training for my first half marathon my shirts rubbed and when I hit 9 and 10 miles I started to get bloody nipples and had to resort to band-aids and vasoline.
They still hurt during my runs, last week, (5 miles, 3 miles, 5 miles) but they never did anything but hurt.
I ran 6 miles for the second time this past Sunday and they hurt again, but still that was it.
Well, on Tuesday (yesterday), they began to hurt again during the second half of my 5 mile run. When I turned the corner and headed towards the final tenth of a mile of my run, I looked down and saw this: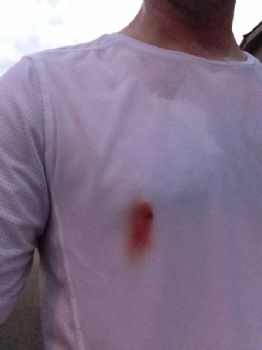 Ouch!
And on my white shirt!
And right after I ran by at least 4 people who live in my neighborhood. How embarrassing!
Fortunately, Oxyclean stain remover did the trick.
Well, last time, the vasoline left nasty stains on my shirts and I didn't want ruin more shirt. And I didn't have time to run to the store for something non-petroleum based.
So, I found a good solution to the problem.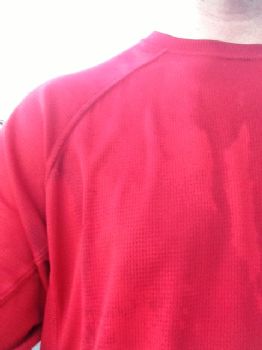 A red shirt!
Well, I also borrowed some of my daughter's Elmo band-aids, too. I'm happy to say that Cookie Monster and Big Bird did a great job of protecting my nip nips, this morning.
But, if they hadn't, at least I was wearing a red shirt.