Good morning Sparkers,
Food planned and tracked - Done
SparkPeople 11-Minute Seated Cardio Workout Video - Done
SparkPeople: 9-Minute Seated Arm and Shoulder Workout - Done
Soup of the day: Curried Vegetable. Here's a link to the recipe
recipes.sparkpeop
le.com/recipe-detail.asp?r
ecipe=2516243
-------------
Exercise: Today was my first day to do the SparkPeople: 9-Minute Seated Arm and Shoulder Workout. Coach Nicole doesn't recommend a particular amount of weight and she uses the same weight throughout the video. I think I may need to change weights during the workout.
First up, I loaned out my 1 & 2 lb weights last year and I don't think I'm getting them back. So I plan to pick up some new ones this week. I used a couple of cans of beans to do the video today. I also have a nice set of PowerBlock dumbbells that adjusts from 3 to 24 pounds in 3-pound increments (3, 6, 9, 12, 15, 18, 21, and 24 pounds).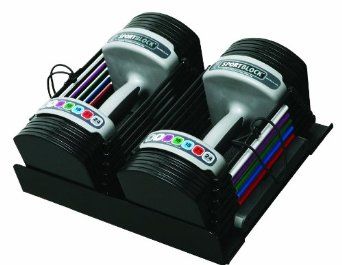 So here is the struggle I'm having with the video. Bicep curls are super easy for me. I could easily do 10lbs or more. Anything done with outstretched arms is difficult for me to do with just a 15oz can of beans in my hand. I know what the problem is. It's all the weight I'm carrying in my arms. When I took my measurements on Aug 12th, my left upper arm was 26 inches around. That's fat not muscle. I don't know how much weight that represents but for some of the video exercises my own body is providing plenty of resistance. I'm going to try it a few more times using different weights and then if I need to I'll just ditch the video and develop my own routine.
------------
I'm reading 'The Beck Diet Solution' with a group in my 55+ Female team. Here's a link to the thread.
www.sparkpeople.c
om/myspark/team_messageboa
rd_thread.asp?board=19834x
9682x54330081&src=email
We're on Day 20 of 42 and today's topic is "Get Back On Track". Here is what I wrote in today's thread.
------------
We have arrived.
The #1 irrational thought and behavior that led me to weigh over 500 lbs.
"I've really blown it....I might as well eat whatever I want for the rest of the day and start dieting again tomorrow."
Variations on this theme include starting again on Monday or the first of the month.
I wake up in the morning knowing I'm supposed to start the diet today. I often don't even make it all the way to lunch without blowing it again and so I commit to begin again the next day and use it to justify eating whatever I want for the rest of this day.
Crazy I know.
I made myself a response card and I also added it to the "Advantages of Losing Weight" reminder that I get on Google twice per day. So I will be reading this twice per day.
*********************
GET BACK ON TRACK
If I've eaten something I shouldn't, I haven't blown it. It's not the end of the world. I can start following my plan again right this minute. Just because I made a mistake doesn't mean I should keep on eating. That makes no sense. It's a million times better to stop now then to allow myself to eat more.
********************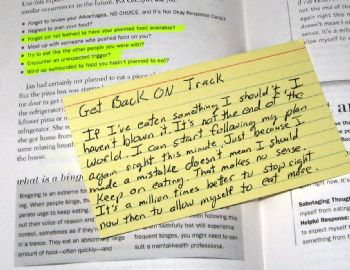 In a weird way it's oddly comforting to have a section of the book devoted to this particular dysfunctional thinking. I like knowing I'm not the only person screwed up in this particular way.
-----------------
Well, that's enough for today. I'll wrap it up with another dahlia photo that my sweetie took.