Tuesday, September 03, 2013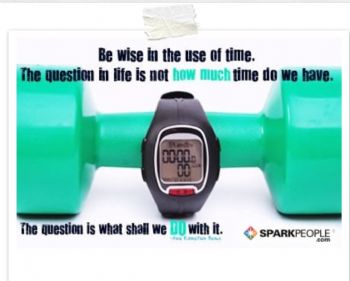 This was the image at the end of my coaching session today. I know that lately I have fallen into some time traps. When I injured my knee I found myself sitting around either elevating, icing or both frequently. But, even before all of that, I would sit and watch shows with my husband in the evening, barely moving. By that time of day I often am in pain.
So, I need to make better use of my time and maybe take something for pain with my dinner so I can keep moving throughout the evening. I will start slow so as not to make my knee worse again. Using a cane has really helped a lot. My back and hip have returned to their normal level of pain and I think my knee is healing faster as well. I should have done this years ago. I can even walk up stairs alternating my feet. Still can't go down more than one step at a time but I'm improving.