Labor Day 2013
Monday, September 02, 2013
August went out like a lion, finally getting some rain on my crazy growing garden. Although we have a few more weeks of official summer, I always look at September as the beginning of Fall season, football games, Applefests, putting up the swimsuits and pulling out oxfords and sweaters. This arithitis has been trying to affect my body, but I am not going to let it win. I refuse to give it ground or stop me from doing the things I enjoy doing.
I spent this weekend relaxing with my guy yesterday, enjoying a good church sermon, pancakes afterward and homemade guacamole. I am going in to work tonight for four hours for some double time. Couldn't pass that up. I enjoyed using coupons to buy some new underwear, some fragrant candles and finally got around to coloring my hair. I decided to start growing it out and really getting with the program of twisting it.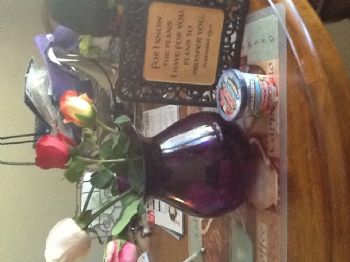 My guy came over despite my bad disposition and bought me these beautiful roses and a mini cup of Ben and Jerry's! I feel loved!