Monday, September 02, 2013





OMG, you guys. My old size 8 jeans fit. #5 on my September goals is done!
I'm sitting in them right now for no reason at all. Hopefully all those squats I've been doing is helping me.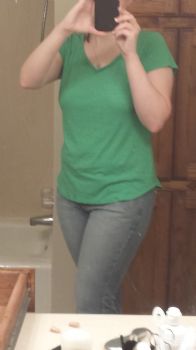 I got rid of my full length mirror in the re-decorating process but I plan on getting one and installing it on the closet door. Eventually. But for now, it'll just be the bathroom mirror. I was even a bit more daring and put on my size 4 dress pants and the legs fit (tight though) but I was unable to fasten more than the first button. I'll get there. 15 more lbs and I got it.
I'm not even sure where the entire weekend went. I keep thinking it's Friday. This Wednesday is the 2 month weigh in!! Ahhh... so nervous. I was looking at some more recipes from Sandy's Kitchen and I'm making cauliflower pizza next weekend!


113 days left!