Sunday, September 01, 2013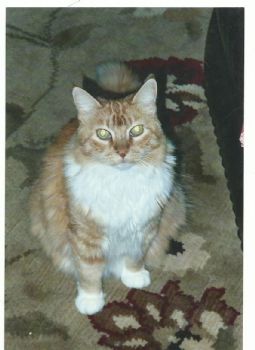 This morning, we had to put our beloved little RT(Roof Top) to sleep. She lived a long life in our loving home. We rescued her from cruelty and abuse, she escaped to the top of a neighbor's roof, where she lived on moths, and drank the condensation off of the air conditioning unit. I prayed that I would be able to get her down, and finally she came to my arms, and into our hearts. She gained weight and learned to trust again. She loved to play with her favorite little ducky filled with cat nip, she loved to be brushed, and she loved lap time. When my husband held her, and brushed her she would move her front legs back and forth, we said it looked like she was tredding water-as if she was swimming!
I believe that God has a special place in heaven for our pets, I hope I don't offend anyone by saying that.
She will be missed.

I did not use her death as an excuse to over eat today. I am thankful that I am learning to control my emotional eating. I did however stay out of the house as long as possible. It's been a rough week, a rough month. I want to thank each of you who have prayed for me, thought about me, written encouraging notes, posts, mail. You have inspired me, and somehow it's working, I'm thinking I am not alone. It really means a lot. Thank you from the depths of my heart.