I'm pretty sure that Trail Runs don't produce times that are as good as a 'normal' Half Marathon time. For these, one runs on paved roads, and basically with sound footing throughout. Still, I was disappointed with my time on this run at first. That is, until I calmed down and realized what I had just done. Now, I'm feeling a bit better.
We arrived last night, the day before the race, in our RV. When we got there, I went and introduced myself to the guys who ran the event. They knew me from a few back and forth emails. What pleasant guys! They had work to do, so I didn't hold them back too much. But, they were glad to meet 'the oldest participant' just the same.
This morning I woke up plenty early, had my coffee and oatmeal and got my race clothes on. I wore an old pair of running shoes, because we were warned that we'd encounter water and mud throughout the course. Walked down and got my packet, which consisted of a bib and 4 safety pins. The shirt would be handed out at the end of the race. That's a new one for me.
Pinned on my bib and got in line. The race started on time - race start began at gun time, no start chip timing. Your time was when you crossed the finish line. I sometimes try to get near the front of the pack on these types of races, and did so today. The race starts.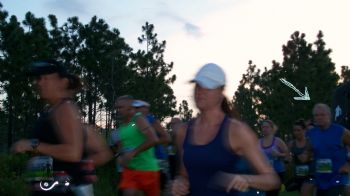 It's cool now and feels good. Nice beginning - running strong. Then, right away a water hole, completely submerged my shoes in water, and they feel like they weigh 5 lbs each. This is not so good. This happens again and again and again. Many water crossings! There are also ruts, exposed tree roots, slimy slippery mud and just generally stuff that I've never encountered before. I knew I was in trouble.
The beginning goes pretty well, I'm having an okay time. Then the sun rises and it gets hot. And humid. I am not a good runner in the heat. I like heat in my training runs, but not in my races. Still, I'm doing fine. I cross mile marker 4 - what?! Only four miles? Oh yeah, my Timex GPS watch screwed up when we started and it didn't record the actual start, which I failed to notice for several minutes, so I didn't have real feedback on where I was. That's why I was so surprised that we'd only gone 4 miles. This was just the beginning. I got tired quickly on this run. I was trying to keep a HM pace, but this was a trail run. Probably a newbie mistake.
I continue - dodging water as much as possible, running through it when there's no way around. Sometimes almost knee deep! I was not ready for this.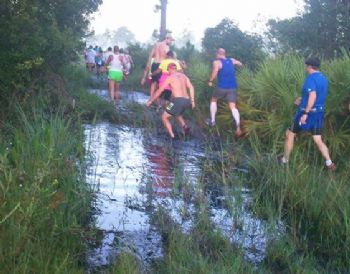 By mile 11, I was completely exhausted! The heat and humidity was getting to me, and I was walking a lot. This is when my stubborness kicks in. I 'almost' want to stop running and am more tired than I can describe. I know this is a make it or break it moment, so I decide to run even farther between walk breaks. This results in painful leg cramps. I keep going. Walking relieves the cramps somewhat. I've passed mile 12, running and walking in the heat. Not so many water holes now, thanks. But my shoes feel like lead weights. Not soon enough, I see the finish line. No great burst of speed for this finish. But, DW is there, camera in the ready, and taking pictures. I got some high 5's from the crowd. Crossed the finish line. Whew! I'm beat. DW tells me I was limping as I approached, and crossed the finish line and it worried her.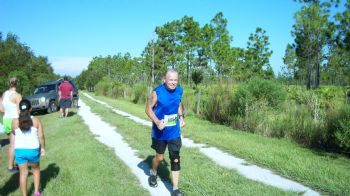 The first thing I told her was, "I don't think I can do that 'strength challenge, my legs are cramping and I'm out of energy". She lets me off the hook, and says she understands - 'cuz I don't look so good.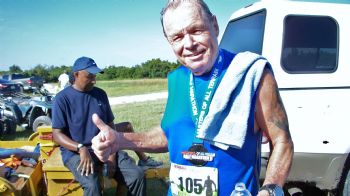 Rest up, eat some post race food, drink a lot of water. Went back to the RV, stripped off the racing gear and put on shorts and a tank top. The RV has the generator running and the A/C is humming. Five minutes later, I'm ready to do the strength challenge. DW want to know if I'm sure. But, she secretly knows I am.
It was fun. I wasn't going to beat these younger kids, but I did enjoy it. Especially when the announcer (who I'd met the night before) tells the crowd to pay attention to me, the oldest competitor there today, and look at how well I'm doing. Nice.
There were three events. First, scale a very small wall, flip a tire, turn around and repeat. Do as many as you can in 2 minutes. I did 6 tire flips.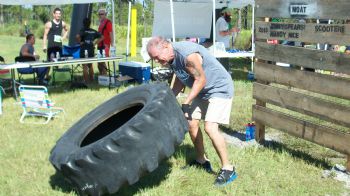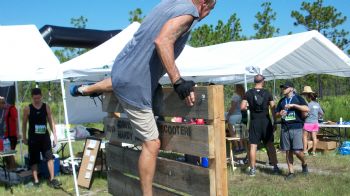 Next do pull-ups while holding baseballs hanging from a chain, until failure. One of the younger guys did an amazing 23 of these! I did 10. Not bad for a geezer, I'll take it.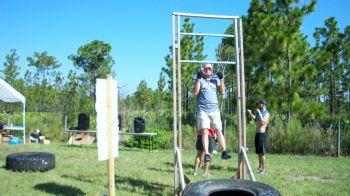 The next, a fun event, was to toss a tire at Miley Cyrus. No, it was not her, but an effigy. A life sized poster on a wooden frame. At this, I failed. I got about a foot away 2 times. I'm okay with that. A lot of younger, stronger guys did not get to clobber Miley with a tire either.
My final time was 2:25:15. This was one of the toughest events I have ever done.
Thanks for reading and have a great day.