I'm Glad I Went
Saturday, August 31, 2013
I just got back from my 5-day excursion to Kripalu Center for Yoga and Health in the Berkshires of Western Massachusetts. I attended the Fitness and Yoga retreat in which a group of about 25 of us hiked, biked, kayaked, circuit trained, and of course did yoga for a week. Thankfully my guilty feelings of being self-indulgent were dissolved once I got there and met the group of people with whom I was sharing the experience.
The most interesting part of the group was our diversity. The youngest there were 2 college boys, and the oldest was a 67-year old woman. There was an obese 29-year old man who wanted to get healthy, and he did every workout! Some of the older peeps must not have realized what they were getting into and skipped most of our time together. I made friends and found examples of fit, older women who I would like to be like in the future.
The yoga retreat center has open yoga classes morning, noon and night with a variety of difficulty levels. I'm no yoga pro, so I stuck with gentle and moderate sessions. I even got up early to be at class at 6:30am most mornings.
The center also makes their food from scratch. My guts were upset with me for eating so many vegetables all the time! We were often joking about it -- because none of us eats that well at home. ;-)
It was fun to spend a work week being healthy, wearing exercise clothes, and being easy. I feel very fortunate that I was able to do it.
Here's a pic of some of us going on a hike. In the middle is a bust of Swami Kripalu, LOL.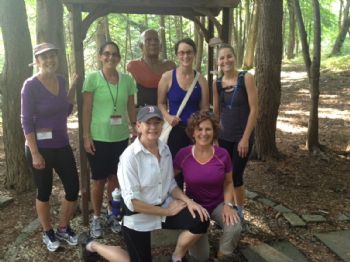 kripalu.org/