Thursday, August 29, 2013
This blog is just a few thoughts I've had knocking around in my brain that I want to take down.
* I think I've found the breakfast that keeps me comfortably full from 7 a.m. or so until lunchtime. 1/2 cup old fashioned oats, 1/2 cup skim milk, 1T chopped pecans, 1T shredded coconut, 1/4 tsp cinnamon, sometimes a few raisins. I throw it all together at night before I go to bed, heat it up in the morning for about a minute, and enjoy. Sometimes in midmorning I'll have a little snack, but more often lately I have not needed the snack.
* I had seen other SP members' virtual weight loss avatar/model thingies. Tonight I finally did a google search and created my own. Here it is.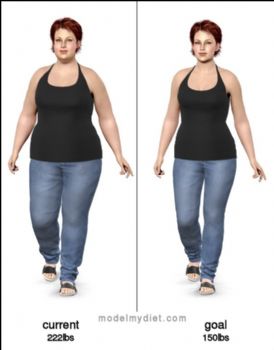 * Before BLC 22 started and required a weekly weigh-in, I had been weighing myself less frequently. I've never been an every day weigher, but usually once a week. I had found myself really stressing over the scale, so I experimented with weighing only every two or three weeks. I'm going to resurrect this for the break between BLC 22 and BLC 23. See how it goes.
* I think BLC 22 helped increase my confidence that I Can Do This. Granted I didn't lose the full amount of weight that I had made my goal. But I lost a decent amount. I showed myself that if I'm serious, I can do this and I am grateful for that realization.
* Finally, I'm happy to have a long weekend but sad that this means summer is over. The heat and humidity I will not miss, but I already miss the long daylight hours. Nighttime is coming too early now.