You just won't understand how time flies as you get older, until you get older yourself. I have logged in 66 years so far.
For me, it's hard to believe that I've been a runner for almost 2 years now. I ran my first 5K that long ago. I wore cheap Nike shoes that were on sale at Sears, a bathing suit and a tank top undershirt. Just wanted to try out a race. Ha! I was hooked. Today I have a closet full of dri-wick shirts, running shorts and several pairs of Altra running shoes.
I read with much interest the accomplishments of my young spark friend, "0N2VICTORY". Robert has done some amazing things in his quest for physical excellence. He continues to inspire me. If you check him out, he will do the same for you, I'm sure.
Anyway, he's just completed a 70.3 mile triathlon. Wow, that's a long distance.
I wondered if a Geezer like me could do an entry level Tri. Say, a "My First Tri" event. 1/4 mile swim, 12 mile bicycle and 5K run.
I can run okay, but I wasn't sure how I'd do in the other two disciplines. Remembered how I could "swim like a fish" as a youth. I grew up on the beach after all, and swam from morning 'til night all summer long. I had some great lungs. But, a couple of punctured lungs from motorcycle accidents surely changed that.
Oh my goodness, sparkfriends, I am so glad you didn't witness my first swim attempt. It's much easier for you to read that I choked, swallowed water and general floundered around (no pun intended) in my home pool. I was exhausted in a few minutes. DW was scared I was overdoing again.
However, I was not disheartened. I understand that I have no where to go but up. And that beginning any athletic discipline can humble you, because you have to learn new skills and use new muscles. I kept at it, and am improving. Slowly. I am a geezer and stubborness sometimes comes with geezerhood.
Okay, now just imagine the same process with bicycle riding. Same initial failure, poor speed, etc. My old mountain bike would allow me to race about 8 or 10 mph. And with that, I am improving also. Faster and stronger. Not by much, but improvement just the same. I need a better bike, though.
Sparkers who know me understand that I take pride in my penurious nature. I love that word, it sounds so much better than miserly. Hey, I'm retired from a blue collar job, so I save my pennies where I can. See my last blog, El-cheapo Tri-suit.
I bought a better bike. If you are an equipment snob, and need to have the best of everything you may chuckle now, that what I refer to as a 'better bike' is indeed, a Walmart special. I read the reviews, though. It's a good bike for penurious :) entry level triathloners.
I got the Denali 700c 20 inch frame model. The 20 inch height is better for a shorter guy. I paid a shocking $200 for it. Oh, to digress, I went to the local bike store and checked out real racing bikes. They start around $500. The salesgirl was polite when I explained that I was in the wrong store and their prices were too high for me. She seemed a trifle surprised that not everyone who walked through the doors was ready, even anxious to buy. She even offered me a "finance plan option". I explained that I had the money, but I just didn't want to part with it. I'm not sure she understood.
Here's a picture of my new bike. Gold and black, woo-hoo.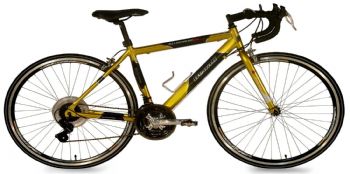 Can't wait to try it out. Heh-heh I just said 'try". I kill me.
Well, thanks for reading. I have to go for a run now.
i