Tuesday, August 27, 2013
This morning, my half-marathon training called for a three-mile run. Since that's so close to a 5K, I decided to increase it to a full 3.1 miles. Why not, right? I ran the 5K at a comfortable pace, never looking at my Garmin, so I wouldn't be tempted to speed up or push myself. These are training runs, not races, and with a semi-injured ankle and another 21 weeks of training ahead, I don't want to burn out! So I ran it comfortably, or as comfortably as is possible with a slightly injured foot and a humidity level so high it feels as if it might as well be raining on you, and I stopped my Garmin when I hit 3.1 miles. I didn't even look at my time, just started my cool-down walk back home.
It was only once I got home and looked that I realized: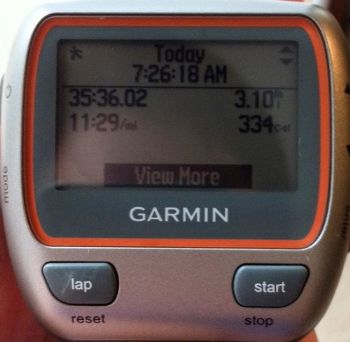 I had to take a picture of it, I was so astonished. I ran that comfortable 5K in 35:36! My PR for the 5K is 35:34!! I ran it today only two seconds slower, without pushing myself, and on an injured leg! Holy donkeys!
Yes, I'm well-aware that an 11:29/mi pace is very slow for a runner, and that 35:34 is a ridiculous PR time, and all that jazz. But I don't care. I'm slow, and I'm okay with that, and I'm APPARENTLY GETTING FASTER, since I can comfortably run at a pace that nearly killed me when I pushed for it six months ago. All this training must be working!

Update! 8/29/13 - Ran another 5K this morning, pushing a bit harder since I was so close two days ago, but again, still didn't look at my time until I hit 3.1 miles. I ran it in 33:43! Almost two minutes faster than my previous PR! WOOHOO!