The following story is from a client of mine who has tried so many different kinds of fad diets and quick fixes, to never achieve the results she wanted. After stumbling upon my site, she soon realized that she would have to put in the effort to eat clean and train hard. She has learned so much her journey and now has earned a body she is happy about and feels confident because she succeeded.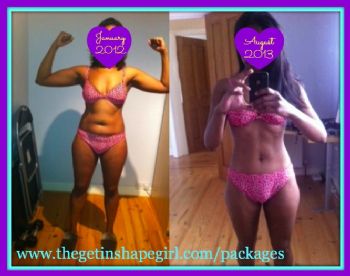 My name is Zeenat and I have totally overhauled and transformed my lifestyle in the last 2 years. Growing up I ate anything and everything, never exercised and pretty much didn't care about my weight.
When I turned 30 I realized that I needed to do something drastic as I was getting fatter and did not want to age quickly. I googled "get in shape fast" and stumbled across Kyra's website. I downloaded her free Booty ebook in January 2012 and started doing the workouts.
I was thrilled to find Kyra offered virtual training which I signed up for. Prior to that I would follow any fad that promised instant results like diet pills and supplements as well as late night informercials selling crap equipment. I am very good at following instructions so working one on one with Kyra taught me how to plan my meals. Everything from protein to carb was given under a list.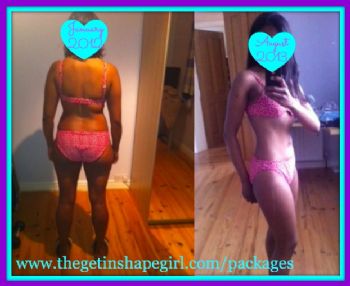 Then, a friend bought me Kyra's 12 Week Bikini Guide workout and Bikini Cookbook as well for my birthday. I had all my workouts Laid out for me. I had no excuse not to exercise or eat healthy.
I used the bikini guide book for two cycles to get the results. I gave myself 6 months to get in shape and get accustomed to exercise and healthy eating. This is truly a lifestyle change for me. I did the workouts both at gym and at home.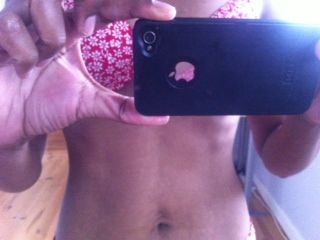 I used Kyra's eating plan and exercise plan and since last summer I have not looked back. Kyra has taught me how to live a balanced lifestyle and enjoy treats on the weekend. I love lifting heavy weights. I used to see weight lifting as just for men but I don't think so now – huge thank you for changing my life Kyra.
It has been a year that I have changed my lifestyle and kept the weight off.
A huge thank you to The Get In Shape Girl. At my heaviest I was 128-130 pounds and I was a USA size 8. I am now 108 pounds and USA size 0-2.
The eating guide, Twelve Week Bikini Guidebook and Bikini Cookbook simplifies everything. I would also recommend the virtual training at the beginning because of accountability. Kyra always checked in with me weekly which helped keep me motivated.
For me the success from your program is the simplicity to follow the eating plan and having my work outs pre planned for me.
I am now in better shape than in my twenties.
What are you waiting for?
Stop falling for the weight loss gimmicks and put in a little effort to get maximum results.
Kyra,
The Get In Shape Girl