This blog's a few days later than I had intended but I have had a crazy week since I've been home. On Friday of this week I couldn't believe that just a week before, I had been on the beach, watching my sister and niece fly a kite.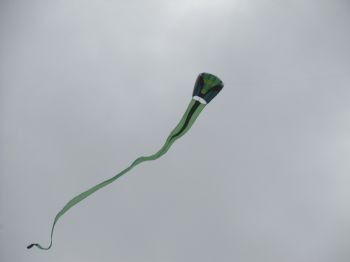 We had a great vacation in the Outer Banks. I would definitely go back there again. Our house was cute and pretty comfy. Our air conditioning failed one day/night, which sucked ... but we got it fixed and got over it pretty quickly.
We didn't do a lot, really. Hanging out on the beach, playing in the water and/or reading and/or just walking along the water were my favorite activities. This was our little slice of beach.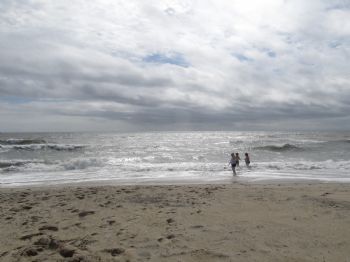 One rainy day we went to one of the northern communities, called Corolla, to take a tour and see the wild Colonial Spanish Mustangs that live around that beach. It's really a bittersweet thing. Eighty years or so ago, there were more than 5,000 of these horses. Now there are about 120. There has been so much development up there, people building huge beach houses where 50 years ago there was nothing. So the area where these horses lives is getting smaller and smaller. At any rate, they are beautiful.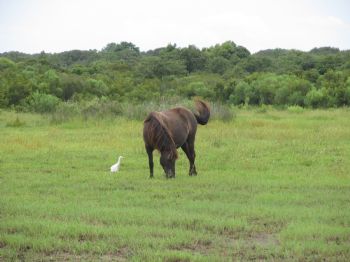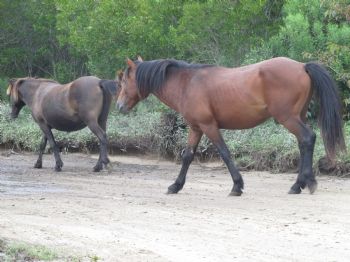 Another day, my sister, niece and I were staying out of the house (this was the day after the night of the broken air-conditioner). We went to Jockeys Ridge National Park, which is (I think) the biggest sand dune in the world. The pictures don't do it justice ... it truly looked like a desert.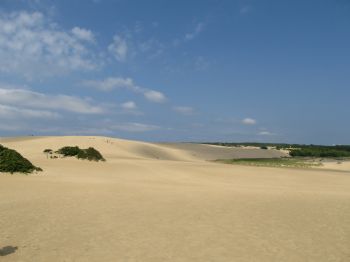 This is me and my sister on Jockeys Ridge. It was hot and humid! Fortunately I don't think you can see how my T-shirt is drenched with sweat.
Finally, here's another picture of the beach to leave you with. I loved my summer vacation!