Sunday, August 25, 2013
Monday August the 26, 2013 I'm going to start doing this ....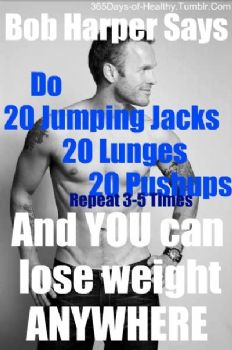 Where my hubby works they have a gym and he is going to start using it. .... so if he is getting all buff then I so need to get rid of my jiggles. wish I could go with him, but the companies insurance won't cover for me to be in there. bummer!

I'm tired of having a muffin top.
I'm tired of worrying over how many rolls are showing when I leave the house.
I'm just tired.
Now, I doubt that I will be able to do 20 of each, but I'm going to do as many as I can. And post how many I do. One ... so I can see the numbers go up.
two ... so you can see that I am doing what I said I was going to do. .... maybe that will be the key to get me moving again.
As far as my diet ... I'm maintaining my weight, so I'm thinking it's really the lack of movement that is holding me up ... or keeping me jiggling.
So there you go, there's my plan. It's written down on my calendar.
Hope you guys are having a wonderful weekend!

Becky