Someone once asked me how I choose a 5K to run. I replied,"I run some 5ks, because I happen to like the t-shirt or the charity". Today, I ran a 5K for fun. Didn't even know I was going to even run it until Thursday when I received an email saying there were less than 100 bibs left. So, I decided to do it.
It wasn't my best run or my worst. It wasn't hot hot, but it was a tad warmer than I would have liked. Also, I ran 7 miles yesterday and should have taken today off as a rest day. But no, I had to run 5K. Why ? For charitable purposes, a cool t-shirt and FUN finishers medal !!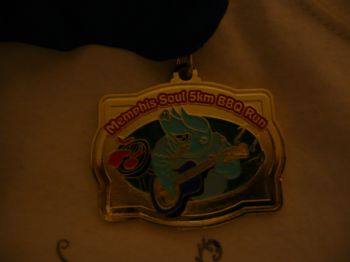 You can't beat a finisher's medal that has a cute pig on it. Yeah, I will run 5k for a medal with a pig on it. LOL !!! Elvis even ran the race. two of them !
Now, some of you have asked me how my new job has been going. And it's been going great. I can't be more thrilled. It's been a fantastic experience so far. However, some of you have noticed that I've posted some tweets that work has been a little stressful and wondered what's up with that. Work has been stressful, but not because of the work. Work has been stressful because I've suspected (no, knew) a colleague was stealing from the company.
I can't go into specific details because there is now an on going investigation. Long story short, another co-worker and I have been convinced that a new employee had been stealing expensive equipment for several weeks. This past week, we didn't catch him in the act. But we found the smoking gun i.e. proof of his thefts. So, the investigation is in full swing and I know this much... the next time I see this person, I want it to be in a courtroom with me giving my testimony that puts him away for grand theft larceny. I'd ask him why he did it, but honestly I don't expect the truth. That's the one thing we noticed about this guy in the first couple of weeks of his arrival, he's a pathological liar.
So, that's why I've been a tad stressed out these past few weeks. This quote from Theodore Roosevelt sums up how I've been feeling about the situation,"In any moment of decision, the best thing you can do is the right thing. The worst thing you can do is nothing."