Saturday, August 24, 2013
I am thrifty, budget conscious, or a cheapskate. You pick the definition.
So, I went to Walmart, picked up a cheap bicycle helmet. Not the cheapest they had, but hey, it's still a Walmart helmet.
Went to eBay and bought a Tri Suit, so I don't have to change. I'll be swimming, biking and running in this suit. It's a medium size, but on the small size, according to the seller. So, I ordered the medium. I'm 5 ft 7 inches, and 147-149 lbs depending on how much I ate or drank on a given day. So I thought the size was right.
I don't know much about these suits, but it feels okay. But. I hate the high waisted look. I wish the color change at the waist was 3 inches lower. But, then again, I only paid $39 bucks for it. I want to see if I enjoy my Sprint Triathlon enough to do another before I invest in a good suit.
So here I am, in my new helmet and new Tri Suit. Remember you are looking at a 66 year old man, so don't judge too harshly. LOL.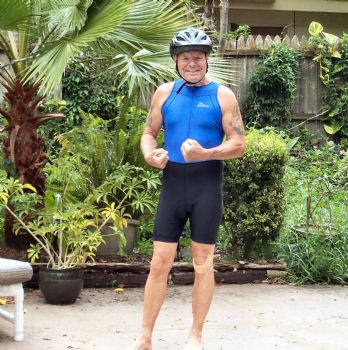 Thanks for reading and have a great day.